Raised-Relief / Topography 3D Map Models
Raised-Relief / Topography 3D Map Models
We build Custom 3D Raised-Relief and Topographical Maps
We build Custom 3D Raised-Relief and Topographical Maps
Raised Relief Topography 3D Maps
Topography models and maps are some of the most versatile and useful tools available to many industries today.  With a wide variety of applications across multiple industries, our raised relief and topographical maps have become essential for national parks and recreation services, government entities, businesses, and individual consumers alike.  Whether you're planning a new development project, studying natural resources, or simply exploring the great outdoors, our high-quality maps and models provide the level of detail and accuracy you need.
Our expertise in top-of-the-line technologies and professional cartography resources allows us to create stunning raised relief terrain maps and models that are unparalleled in their quality and detail.  From the heights of the Himalayas to the depths of the Grand Canyon, our maps and models allow you to explore the natural wonders of our planet in stunning detail.  Whether you're a scientist, an adventurer, or just a curious explorer, our maps and models offer a thrilling and exciting way to discover the world around you.
At the forefront of our expertise is our 3D printing technology, which enables us to provide durable, portable, and affordable models to a broader range of markets than ever before.  Our 3D models are crafted with the utmost attention to detail, ensuring that every contour and feature of the land is accurately represented.  Our models are perfect for everything from educational purposes to research organizations, and they are on display at museums, national parks, university campuses, sports facilities, hospitals, and research organizations worldwide.
Gallery of Selected 3D Raised Relief Topography Map Projects
The possibilities of using topography models and maps are endless, with applications in a wide range of locations and industries. From displaying ski runs and marathon routes to planning residential and commercial developments, our topographical maps and models are essential tools for exploring and understanding the world around us. We can even map underwater terrain and subsurface earth features, providing us with valuable insights into the natural processes that shape our planet.
One of our most recent topography projects was a massive undertaking – mapping the Great Smoky Mountains National Park and the surrounding area. With over 1.2 million acres to cover, we created a stunning topography map measuring 91 inches by 56 inches, showcasing the incredible beauty and natural wonder of this iconic location.
But we don't just offer standard topography maps and models. We also provide customized additions to make your display truly unique and stunning. Our in-house carpentry shop can build elegant bases, tables, or cabinetry to display any topography you choose. Worried about dust? We can customize a protective case to keep your display in pristine condition. Our skilled artisans can even hand-paint details to make your topography a true work of art.
At our facility, we have a sizeable model-making shop that can create custom support elements for any model we produce. We are a full-service 3D model-making company, and our expertise and dedication to quality ensure that every model we produce is of the highest caliber.
So whether you're planning an adventure, designing a development project, or simply exploring the natural beauty of our world, our topography maps and models are essential tools that offer a thrilling and exciting way to explore and understand our planet. With our expertise and dedication to quality, we can help you unlock the secrets of our world and discover its hidden treasures.
Features & Benefits of 3D Raised Relief

Maps
Remarkably Strong:  You can drive a 1-ton truck over our topography models.
Precision:  We print our physical maps to scale as accurately as are the original files and images.
Excitement:  It is much easier to get excited about 3D views of your topography than flat printed maps.
Stain and Water Resistance:  Spills are easy to wipe up.
Communication:  Satellite maps are simple to understand with a quick glance.
Affordability:  Our 3D technologies allow you to order custom 3D maps for a reasonable price.
Testability:  3D technologies are affordable enough to test designs, such as several versions of planned work.
Consistency:  Using modern print and casting technologies, you can easily recreate identical 3D maps.
Portability:  We use lighter materials than what was available in the past, making our topography models easy to transport.
How

3D Raised Relief Maps are Made

There are several techniques used to create 3D raised relief maps, and the process can vary depending on the scale and complexity of the map.  However, the basic steps involved in making a raised relief map are as follows:
Create a base map. The first step in making a raised relief map is to create a base map of the area. This can be done using imagery from a standard two-dimensional map, aerial photographs, satellite images, or WhiteClouds can do it for you.
Determine the design style of the map. There are over 40 styles to choose from.  Popular ones include satellite, terrain, topography, raised relief, and satellite hybrid.
Add any special design features not included in the source map, such as special features, landmarks, legends, roads, cities, symbols, etc.
Add elevation data. The next step is to add elevation data to the map. This can be done using a variety of techniques, such as contour lines, shading, or digital elevation models (DEMs).
Print the Map Overlay.  Latex vinyl materials are used for the map details and colors.  
Create the 3D physical map. Once the elevation data has been added to the map, a physical 3D structure is created that replicates the topography of the area. This can be done using 3D printed plastic or thermoformed molding/casting.  Either approach is combined with the Vinyl overlay.
Finish the map.  This is where any excess materials are cutaway.  Any special sealers, matte finishes, hardeners, or UV protection is applied.  Wood, metal or plastic bases are built and border flocking may be applied.
3D

Raised Relief Map Videos
3D Topography Map Design Styles
Many design styles, or base maps, serve as a starting point for your topography model.  We source and create our base maps using the same digital tools that expert cartographers use to create maps.  Once you have selected your base map, everything else is fully customizable.  We can layer informational text (such as landmarks or other points of interest) and even change the colors to suit your preferences.
Complex layers can be added such as streams and lakes, terrain, roads, and even more detail like political boundaries, religious, and other population-based demographics.  Multiple layers can also be added to the same physical map.  Take a look at the map style categories below for inspiration.
Technology and Materials 3D Topography Models

With 3D printing technology, you are not limited to straight lines and boxes. The curves and cliffs are captured accurately and beautifully in astonishing detail.
Your vision of the final 3D map determines which materials we will choose to produce the best results. We help you to determine the materials that best suit your project.
We use fabrication technologies such as 3D printing, CNC cutting, and molding/casting.
Topography models show incredible detail.
Our maps are printed in full color (with over 17 million variations of color) for awe-inspiring presentations and displays. No painting required!
Typically, we use a special process for finishing the sides of the raised relief maps in a suede-like material, similar to the finish of a jewelry box.
Our in-house paint booth gives us flexibility in different types and grades of paint and finishing capabilities; we can provide UV-resistant coatings to protect the coloration of your 3M map for many years.
We also offer customized additions to our 3D maps and models. Our in-house carpentry shop will build elegant bases, tables, or cabinetry to display any map you choose. Worried about dust? We can customize a case to protect your display as well. Our skilled artisans can hand-paint details to make your map a true work of art.  
Pricing of Custom Raised Relief Map / 3D Topographical Models
The cost of topography maps and models is generally based on your size requirements, specific design needs, and the amount of work it will take to produce. Each model is custom-built and charged accordingly. The best way to determine cost is to email us, call us at 385-206-8700, or fill out the form below and let us bid on your project.
Get a Free 3D Price Estimate for a Custom Topographical Model

Custom Fabrication Workflow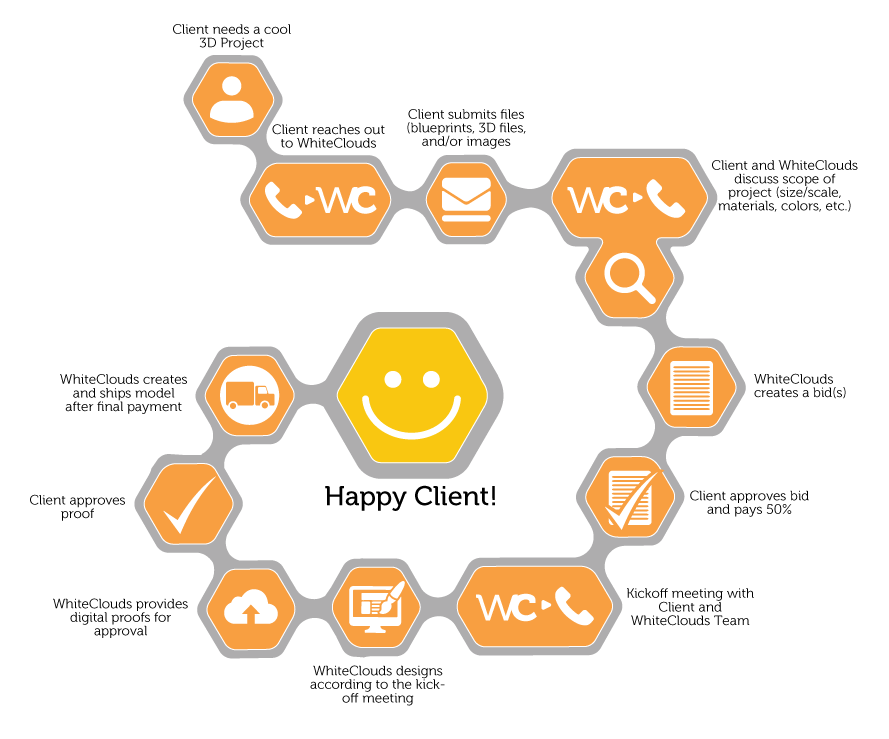 Common Questions & Answers
What file type is required to 3D print a model? We work with all architectural CAD programs including AutoCAD, Revit, Chief Architect, ArchiCAD, and Sketchup, to name a few. If you design in 3D, we will start with your 3D files. If you have 2D blueprints and elevations, artist's sketches (or even napkin drawings), we can build a model from these as well. We can also create topography models and maps simply from your provided coordinates.
What is the largest map you can fabricate? There is no limit to the size of a map we can build. There are practical limits that will impact shipping and installation, but we work closely with our customers on these special requirements.
What type of 3D maps can you fabricate? All types. Satellite Maps, Terrain Maps, Topographical Maps, Raised Relief Maps, USGS Maps, Contour Maps, and many more.
Can you fabricate with different technologies and materials? Yes. Our most common fabrication technology is 3D Printing, but we can also build 3D Maps with CNC Cutting, 3D Foam, Molding/Casting, Thermoforming, and Sculpting.
What materials can you 3D print in? We match the correct material and fabrication process to your requirements in terms of presentation, size, and transportability. We can 3D print in PLA, FDM, Full-Color Sandstone, UV-cured resin, plastic, rubber-like, acrylic, and nylon – as well as combining multiple technologies.
Can you sign a Non-disclosure Agreement that you supply? Yes.
How long will it take to create my map?

That depends on the design and size of the map. A more complex or detailed map will take longer than a simple map, we can't really say exactly how long it will take until we have the chance to understand what type of map you want fabricated. Generally, smaller standard maps can be a couple of weeks and large museum exhibition maps can be 6 months.
What do you need from me to start the map fabrication? Boundaries are a good place to start. Determining map styles, sizes, height (may be exaggerated), and cabinetry needs are all part of the process. Special design features can also be added.
Do you have a question we didn't answer? Don't hesitate to contact us at 1-385-206-8700 or [email protected].
WhiteClouds has delivered models around the world.
History of Topographical Models
Way back in grade school, many of us were already experienced 3D model creators when we built our first volcano for a science class. However, the first raised maps were built in the Qin Dynasty over 200 years BCE.  In the past, maps were made of wood, clay, beeswax, wheat paste, and rice.
Later maps were created from layering sheet material, sometimes over a plaster mold.  Then plastic formed maps became common in the late 1940s. These thermoformed maps were the first type of 3D-raised relief maps that could be quickly produced.  They were not known to be highly accurate and had a difficult time forming sharp points, like high-pitched mountain ranges.
One of the most famous terrain relief models is the Great Polish Map of Scotland. This map was created using concrete in the 1970s.  The map was designed by a cartographer and is currently being restored.
Now 3D printers can create raised topographic models more accurately and affordably.  Also, the maps can be designed to be much more portable than versions of the past.  While printers can print plastic raised maps, they can also print using various powders, resins, and metals. Emerging 3D printing technologies is opening the opportunity for 3D maps to be used in more industries than what existed even just a few decades ago.