Raised-Relief / Topography 3D Map Models
We build Custom 3D Raised-Relief and Topographical Maps
Topographies + Technology
Topography models and maps are helpful for many industries. A wide variety of applications across multiple industries make our topographies essential tools for the national parks and recreation services, government entities, businesses, and individual consumers. Our high-quality maps and models are on display at museums, national parks, university campuses, sports facilities, hospitals, and research organizations worldwide.
We meld top-of-the-line technologies with professional cartography resources to create stunning raised relief terrain maps and models. Our expertise in 3D printing enables us to allow more markets to benefit from purchasing durable, portable, and affordable models.
Gallery of Selected Topography Projects
The possibilities are endless for locations; popular uses include topographical displays of ski runs, marathon routes, hiking trails, underwater terrain (ocean bathymetry), residential and commercial planning, subsurface earth features, and geographical features.
One of our more recent topography projects was of the Great Smoky Mountains National Park and the surrounding area. The large topography mapped over 1.2 million acres in a 91″ x 56″ frame.
We also offer customized additions to our topography maps and models. Our in-house carpentry shop will build elegant bases, tables, or cabinetry to display any topography you choose. Worried about dust? We can customize a case to protect your display as well. Our skilled artisans can hand-paint details to make your topography a true work of art. Our facility supports a sizeable model-making shop to create custom support elements for any model we produce. We are a full-service 3D model-making company!
Features & Benefits of 3D T

opographical Maps
Remarkably Strong: You can drive a 1-ton truck over our topography models.
Precision: We print our 3D models to scale as accurately as are the original files and images.
Excitement: It is much easier to excite your customers with 3D models of your ski runs or trails than flat printed maps.
Stain and Water Resistance: Spills are easy to wipe up.
Communication: Raised relief terrain models are simple to understand with a quick glance.
Affordability: Using 3D printing technologies, you can order custom 3D maps for a reasonable price.
Testability: 3D prints are affordable enough to test designs, such as several versions of planned work.
Consistency: Using modern print and casting technologies, you can easily recreate identical 3D topography maps.
Portability: We use lighter materials than what was available in the past, making our topography models easy to transport.
A demonstration of the durability of our 3D printed topography models.
Many design styles, or base maps, serve as a starting point for your topography model. We source and create our base maps using the same digital tools that expert cartographers use to create maps. Once you have selected your base map, everything else is fully customizable. We can layer informational text (such as landmarks or other points of interest) and even change the colors to suit your preferences. We can also add more complex layers like streams and lakes, terrain, roads, and even more detail like political boundaries, religious, and other population-based demographics. We can add multiple layers to the same topography map. For example, community developers and city planners can benefit from a topography model with layers that include parcel lines, existing building footprints, and utility lines. Take a look at the categories below for inspiration.
Technology and Materials Topography Models

With 3D printing technology, you are not limited to straight lines and boxes. The curves and cliffs are captured accurately and beautifully in astonishing detail.
Your vision of the final topography model determines which materials we will choose to produce the best results. We help you to determine the materials that best suit your project.
We use topography fabrication technologies such as 3D printing, CNC cutting, and casting.
3D printed topographical models, architectural models, and terrain models show incredible detail.
Topography models can be 3D printed in full color (over 750,000 variations of color) for awe-inspiring presentations and displays. No painting required!
Typically, we use a special process for finishing the sides of the topographies in a felt-like material, similar to the finish of a jewelry box.
Our in-house paint booth gives us flexibility in different types and grades of paint and finishing capabilities; we can provide UV-resistant coatings to protect the coloration of your topography models for many years.
Pricing of Custom Topographical Models
The cost of topography maps and models is generally based on your size requirements, specific design needs, and the amount of work it will take to produce. Each model is custom-built and charged accordingly. The best way to determine cost is to email us, call us at 385-206-8700, or fill out the form below and let us bid on your project.
Get a Free 3D Price Estimate for a Custom Topographical Model

Custom Fabrication Workflow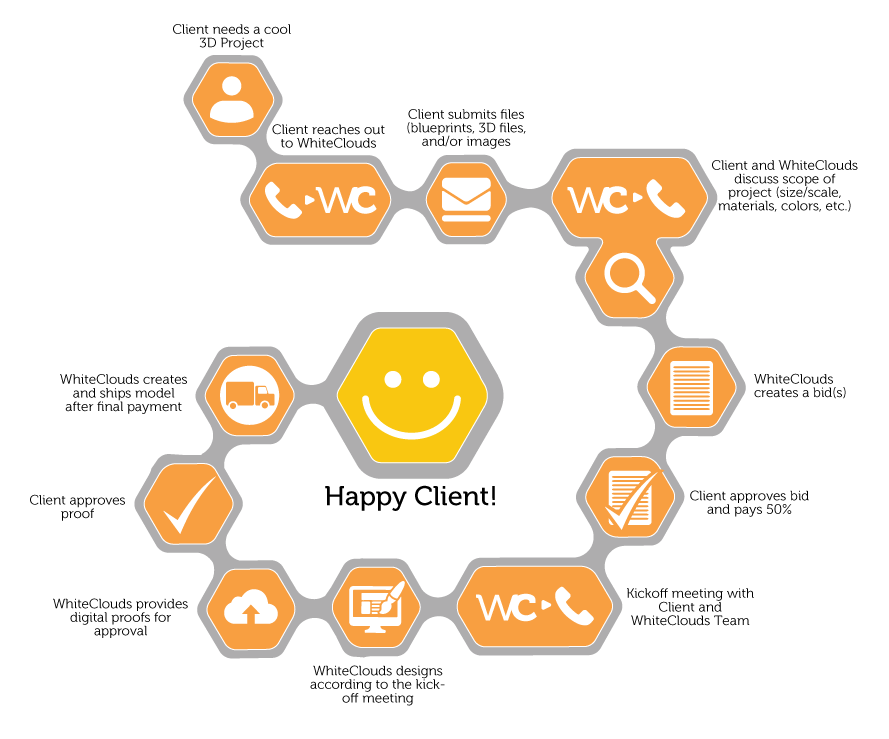 Common Questions & Answers
What file type is required to 3D print a model?
We work with all architectural CAD programs including AutoCAD, Revit, Chief Architect, ArchiCAD, and Sketchup, to name a few. If you design in 3D, we will start with your 3D files. If you have 2D blueprints and elevations, artist's sketches (or even napkin drawings), we can build a model from these as well. We can also create topography models and maps simply from your provided coordinates.

Do the printers print in color?
We use advanced fabrication methods that merge 3D printing with high-resolution full-color images and graphics.

What is the material used?
We consider many factors when choosing the materials for your topography. We will match the most suitable material and fabrication process to meet your presentation, size, transportability, and cost requirements. We fabricate in our model shop using different types of foam, wood, metal, resins, and acrylics.

What is the largest model you can 3D print?
There is no limit to the size of a topographical model. Our 3D print envelope on our standard printers is 11″ x 11″ x 15″; this is the largest model we can print in a single piece. We have mastered building larger topography models by fusing multiple smaller 3D printed parts into big displays. If we determine that a foam-type structure is the best fabrication method, it is straightforward for us to build out extensive and precise models with the help of our in-house CNC machine.

What is the turnaround time for a 3D-printed topographical model?
We usually ask for four to six weeks from when we take the order to when you will receive the model. We understand that sometimes deadlines are tight, and we can often accommodate rush orders in as little as one week, depending on our current production queue.

Can you 3D print homes, buildings, swimming pools, arbors, hardscaping features, etc.?
Yes. We 3D print many of these items in our topographical models in-house. We refer to the more complex topography models as architectural dioramas.
Do you have a question we didn't answer? Don't hesitate to contact us at 1-385-206-8700 or [email protected].
WhiteClouds has delivered models around the world.
History of Topographical Models
Way back in grade school, many of us were already experienced 3D model creators when we built our first volcano for a science class. However, the first raised maps were built in the Qin Dynasty over 200 years BCE. In the past, maps were made of wood, clay, beeswax, wheat paste, and rice.
Later maps were created from layering sheet material, sometimes over a plaster mold. Then plastic formed maps became common in the late 1940s. These thermoformed maps were the first type of 3D-raised relief maps that could be quickly produced. They were not known to be highly accurate and had a difficult time forming sharp points, like high-pitched mountain ranges.
One of the most famous terrain relief models is the Great Polish Map of Scotland. This map was created using concrete in the 1970s. The map was designed by a cartographer and is currently being restored.
Now 3D printers can create raised topographic models more accurately and affordably. Also, the maps can be designed to be much more portable than versions of the past. While printers can print plastic raised maps, they can also print using various powders, resins, and metals. Emerging 3D printing technologies is opening the opportunity for 3D maps to be used in more industries than what existed even just a few decades ago.