Custom Woodworking Services
We build custom wood 3D props, accents, bases, and signs for events, trade shows, corporate decor, and more.
Custom Woodworking Services
Looking for a way to make your event or tradeshow stand out? Custom woodworking services may be just what you need. With a skilled team of designers and craftsmen, we can create stunning, one-of-a-kind displays, furniture, and structures that are tailored to your branding and messaging. From eye-catching wood props and accents to fully customized tradeshow booths and furniture, our woodworking services are designed to capture attention and leave a lasting impression on your guests or clients.
We have skilled artisans with decades of experience in a variety of 2D printing and 3D fabrication techniques that combine wood with other materials so you never need to go anywhere else to complete your entire project.
Ranging from a simple wood base, frame, or stand to giant complete displays. We can help you present your project in the best possible way. We are an all-in-one solution!
Custom Wood Bases & Stands
Our custom wood bases are perfect for displaying products and props at events and trade shows. We can create bases in a variety of sizes, shapes, and finishes, such as stained, painted, or distressed. Whether you desire a rustic charm or a modern elegance, choosing wood for your custom stands, bases, and accents grants you the benefits of versatility, durability, sustainability, and timeless beauty, ultimately enhancing your brand's presence and leaving a lasting impression on your audience. Some examples of wood bases we have created include:
Custom 12 foot by 12 foot cabinet base for a 3D diorama of a university campus. It has removable glass panels and stores electronics for a kiosk controlling spot lights within the diorama
Custom wooden pedestal with integrated spotlights for a school mascot statue
Rounded wooden risers to elevate signage and make them more visible at a trade show booth
Our team can create custom wood props that are perfect for photo backdrops and themed events. From small props to large-scale sculptures, we can bring your vision to life. With the ability to incorporate shelving, interactive features, lighting, and branding elements, our custom wood displays are not just visually stunning but also highly functional. Think big and get creative with your custom displays. From the simple to the complex, the sky's the limit. Below are some examples of some of our custom wood projects.
A life-size display of a company logo featuring a quarter machine that was filled with balls with participants names on them and drawn for prices during the event.
A giant touchscreen kiosk display for a trade show
A giant replica of an audio amplifier
Our wood signs are a great way to showcase your branding and messaging. We can create custom wood signs in a variety of styles, finishes, and sizes to match your branding and messaging. We can also incorporate electronics to make them functional, interactive and unique. Some examples of wood signs we have created include:
Digital touchscreen kiosks for a trade show booth
A wooden trade show product display shelving / sign with integrated LED spotlights
A lighted wooden podium for a trade show booth
Custom Display Counter Tops:
A custom display countertop offers several benefits, including enhanced branding and aesthetics. By tailoring the materials, colors, and design elements to match your brand, it creates a visually appealing and cohesive display that leaves a lasting impression. Additionally, it maximizes product visibility through features like adjustable shelving, lighting, and transparent panels, capturing customers' attention and encouraging interaction. Moreover, custom display countertops optimize space by utilizing every inch effectively, ensuring efficient product placement and organized presentation.
Custom Event or Office Cabinetry:
Custom cabinetry for trade shows, events, or corporate lobbies offers tailored branding opportunities, functional storage space, a professional and organized environment, and adaptable design and layout options, ensuring a cohesive and impactful representation of your brand while effectively showcasing products and materials in a versatile and visually appealing manner.
Custom Trade Show Booths:
Our custom trade show booths are designed to attract attention and showcase your brand, products and services in the best possible light. We can create unique and visually appealing trade show booths that stand out from the competition. 
Custom Trade Show Furniture:
Our custom trade show furniture is designed to provide both functionality and visual appeal. We can create custom furniture such as tables, podiums, chairs, benches, and lounges that are specifically tailored to your branding and messaging like the examples below.
Trade Show Wood Wall Structures:
Our custom wood wall structures are perfect for creating eye-catching displays and backdrops at events and trade shows. We can create custom wood wall structures in a variety of styles, finishes, and sizes to match your branding and unique space requirements. 
Our wood accents are perfect for adding a touch of rustic charm to any event or decor. We can create custom wood accents such as wooden frames, bases, and other decorative pieces.
Other Related Woodworking Services:
In addition to the services listed above, we also offer a variety of other related woodworking services to enhance your event or corporate decor. Some of these services include:
Custom wood flooring for a unique and visually appealing look
Custom wood paneling for adding warmth and texture to walls and ceilings
Custom wood lighting fixtures for adding a warm and inviting glow to your space
At our custom woodworking shop, we pride ourselves on our attention to detail and commitment to quality craftsmanship. We use only the finest materials and techniques to create stunning and durable displays, furniture, and structures that are designed to impress. Contact us or fill out the custom bid request form below to learn more about how we can bring your vision to life with our custom woodworking services.
Pricing of Custom Woodworking Services
The cost of custom displays is based on the volume of materials (size of the model), type of materials, the time it takes to create the 3D design, production labor, and installation time and materials, as well as other specific elements unique to the project. Each model is bid individually and the best way to determine cost is to email us, call us at 385-206-8700, or fill out the form below and let us bid on your project.
Get a Free Price Estimate for 3D Props
When it comes to selecting wood materials for custom displays, there is a range of options available, each with its own unique characteristics and aesthetic appeal. Also, one added advantage that WhiteClouds has over traditional wood shops is that we are masters of all 3D fabrication technologies and materials. Often, our displays uses a combination of materials such as acrylic, glass, metal, 3D-prints and foam. Here are some common wood materials often used in the creation of our custom displays:
Plywood: Plywood is a popular choice due to its versatility, cost-effectiveness, and strength. It is composed of multiple layers of thin wood veneers, bonded together with adhesive, resulting in a stable and durable material.
Hardwood: Hardwoods such as oak, maple, cherry, and walnut are favored for their natural beauty, strength, and durability. They showcase rich grain patterns and offer a premium look and feel, making them ideal for high-end custom displays.
Softwood: Softwoods like pine, spruce, and cedar are commonly used for custom displays due to their affordability and availability. They can be stained or painted to achieve various finishes, and their lighter weight makes them easier to work with.
MDF (Medium-Density Fiberboard): MDF is a composite wood product made from wood fibers and resin, offering a smooth and uniform surface. It is often used for painted or veneered custom displays due to its stability and ability to be machined easily.
Particleboard: Particleboard is composed of wood chips, shavings, and resin, pressed together to form a dense sheet. It is an economical option for custom displays, but it is generally less durable than plywood or solid wood.
Reclaimed or Salvaged Wood: Utilizing reclaimed or salvaged wood adds a unique character and sustainability aspect to custom displays. These materials are sourced from old barns, buildings, or other sources, providing a rustic and distinctive aesthetic.
The choice of wood material depends on various factors such as budget, desired aesthetics, durability requirements, and the specific application of the custom display. Each wood material brings its own charm and appeal, allowing for endless creative possibilities in crafting visually striking and impactful custom displays.
Custom Fabrication Workflow
Creating a custom wood display involves several steps, from planning and designing to construction and finishing. Here are the general steps involved in creating a custom wood display:
Define the Purpose and Requirements: Determine the purpose of the wood display and the specific requirements it should meet. Consider factors such as size, shape, functionality, material preferences, and any special features or considerations. In our custom bid process, the more specific a customer can be with this information, the better able we are to give an accurate cost.
Conceptualize and Design: If available, we like to receive a CAD file, architectural drawings, illustrations or 3D files from our customer. Many times we will design the file with our team of designers based on requirements, but the more the customer can provide, the better. Consider the overall structure, dimensions, compartments, shelves, and any additional elements you want to incorporate.
Material Selection: Choose the type of wood that best suits your design and requirements or we can offer our recommendations based on your project requirements and end-goal. Popular choices for custom wood displays include hardwoods like oak, walnut, maple, or cherry. Consider factors such as durability, aesthetics, and availability of the wood.
Gather Materials and Tools: Prepare all the necessary materials and tools for the construction process. This includes the chosen wood, hardware (such as screws, nails, hinges), measuring and marking tools, cutting tools (e.g., saws), sandpaper, clamps, and protective equipment. In some cases, special hardware or wood may need to be special ordered.
Prepare the Wood: Measure and mark the wood pieces according to the design specifications. Use appropriate cutting tools to cut the wood to the desired dimensions. Ensure precise and accurate cuts to achieve clean and straight edges.
Assembly: Begin the assembly process by connecting the individual wood pieces according to the design. This may involve joining them using screws, nails, or glue. Use clamps to hold the pieces securely while fastening them together. Follow the design plan carefully to ensure proper alignment and structural integrity.
Finishing: Once the basic structure is assembled, it's time to apply finishes to enhance the appearance and protect the wood. Start by sanding the wood surfaces to achieve a smooth finish. Choose a suitable finish, such as paint, stain, or varnish, based on your design preferences. Apply the finish following the manufacturer's instructions and allow adequate drying time between coats.
Detailing and Customization: Add any desired detailing or customization to the wood display. This may include carving, engraving, inlay work, or applying decorative elements like metal accents or glass panels. Use appropriate tools and techniques to achieve the desired effects.
Quality Check and Adjustments: Once the wood display is completed, inspect it thoroughly for any flaws or imperfections. Make necessary adjustments, such as fixing loose joints or sanding rough edges, to ensure the final product meets your expectations.
Installation and Display: Determine the appropriate location for the wood display and install it securely. Use appropriate mounting hardware or brackets to ensure stability. Arrange the items to be displayed in an organized and visually appealing manner.
Shipping: Depending on the size of the project, a special crate may need to be made. WhiteClouds has an entire shipping department dedicated to making sure the project arrives safely, despite the size or delicacy. These details and cost are also outlined in a custom bid.
Custom woodworking services requires a combination of woodworking skills, knowledge, craftsmanship, and attention to detail. Fortunately, WhiteClouds has decades of experiences with some of the best artisans in the business.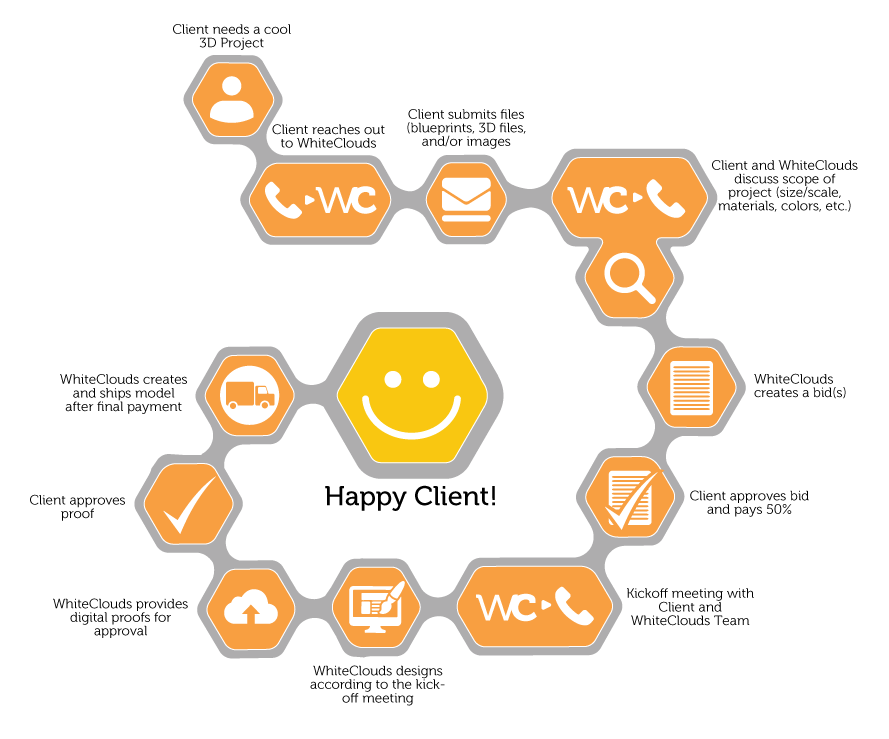 WhiteClouds has delivered models around the world.