Unleash Your Creative Vision: Elevate Your Productions with Our Custom Prop Making Services
Unleash Creativity and Quality
In today's competitive entertainment and advertising industry, captivating visuals and attention to detail can make all the difference in creating memorable experiences. Custom props play a pivotal role in bringing stories to life, be it on the big screen, events, stage, retail, or in the world of marketing. If you're in search of exceptional custom prop making services, look no further! Our team of skilled artisans is here to turn your wildest creative visions into reality, ensuring your production stands out from the crowd. 
Tailored to Your Vision
At WhiteClouds, we understand that each project is unique and demands a personalized touch. Our custom prop making process begins with in-depth consultations to fully comprehend your creative vision. We believe that collaboration is key, and our team works closely with you to translate your ideas into tangible prop designs.
Expert Craftsmanship
Our team consists of highly skilled artisans who are masters of their craft. From concept design and material selection to fabrication and finishing, our artisans pour their expertise and passion into every prop. With a keen eye for detail and an unwavering commitment to quality, we ensure that each custom prop meets and exceeds your expectations.
Custom Props Use Cases and Project Examples by WhiteClouds
Custom props have a wide range of use cases across various industries and WhiteClouds has produced custom props for many of them. Here are some of the different applications and scenarios where custom props are commonly used and examples of WhiteClouds projects:
Marketing and Advertising Campaigns: Custom props are powerful marketing tools that can effectively communicate brand messages and capture audience attention. Whether it's a larger-than-life product replica, a creatively designed mascot, or a visually striking display, custom props make a lasting impact in advertising campaigns, product launches, and promotional events.
Live Events and Exhibitions Custom Props:
Custom props are frequently used in live events, trade shows, and exhibitions to attract attention and create memorable experiences. Giant replicas, interactive installations, and eye-catching displays are just a few examples of how custom props can captivate and engage event attendees.
Theater and Stage Productions Custom Props:
Theater productions often rely on custom props to create immersive environments and enhance storytelling. From period-specific furniture and decorations to unique stage elements and magical artifacts, custom props help set the scene and transport the audience into the world of the play.
Themed Entertainment and Amusement Parks:
Themed entertainment venues and amusement parks rely heavily on custom props to create immersive environments and enhance visitor experiences. From lifelike animatronics and scenic elements to oversized statues and interactive installations, custom props help bring fantasy worlds and themed lands to life.
Educational and Training Programs: 
Custom props are frequently utilized in educational settings to enhance learning experiences. They can range from anatomical models and scientific replicas to historical artifacts and interactive teaching aids, providing students with hands-on, engaging tools for learning and understanding complex subjects.
Cosplay and Fan Conventions:
Custom props are essential for cosplayers who meticulously recreate characters from movies, TV shows, video games, and comics. These props, such as swords, thrones, backgrounds, statues, and accessories, add authenticity and attention to detail to their booths, making cosplayers stand out at fan conventions and events.
Retail Custom Props:
Custom retail props offer unique and personalized shopping experiences, enhancing brand recognition and creating a cohesive ambiance. They draw attention to products, boost sales, and provide cost savings through reusability. Custom props elevate aesthetics, strengthen brand perception, and drive customer engagement and revenue.
Photography and Studio Shoots: 
Custom props are often used in photography studios and shoots to create unique and visually stunning compositions. Whether it's for fashion shoots, school photos, company brand marketing, product photography, or editorial projects, custom props can add flair, texture, and context to the overall visual storytelling.
Film and Television Production Custom Props:
Custom props play a vital role in bringing stories to life on the big screen. From futuristic gadgets and weapons to intricate set pieces and costumes, custom props add authenticity and visual appeal to movies and TV shows.
Utilizing a wide range of materials and techniques, we bring versatility and authenticity to your custom prop projects. Whether it's sculpting, molding, 3D printing, woodworking, metal, or a combination of various techniques, we have the expertise to deliver stunning and durable props that enhance the visual impact of your production.
Custom 3D-Printed Props
The advent of 3D printing has revolutionized the world of prop making. This cutting-edge technology allows marketers to bring their wildest ideas to life with speed and precision. 3D printers can transform digital designs into physical props, offering endless possibilities for customization. From intricate product prototypes to unique promotional items, 3D printing opens up new horizons for creating attention-grabbing props that reflect your brand's identity. We use cutting-edge materials and printers but most often we use resin and PLA-filament, depending on the job.
Read a full case study on our 3D-printed 7 foot tall Captain America statue, life size faux bronze King and Queen of Kaua'i statue, 6 foot tall working bobblehead statue, or the largest 3D-printed statue in the world.
Below are a few more examples of custom props we've made using 3D printers. 
Custom Foam Props
Foam sculpting and carving techniques provide versatility and scalability in creating custom props. Foam, such as expanded polystyrene (EPS), can be shaped into virtually any form or size.  This method is ideal for large-scale props, trade show displays, and large letters or signs that require lightweight yet durable materials. With the invention of hard coats and finishes such as our Polyurea ULXT66, foam props can be a durable option outside or inside.
For a detailed look at the entire process of creating a giant foam prop for outdoor use, look at our case study on creating a 37 foot wide prop of a Nike shoe. Or, read our full case study on a large custom statue of a company mascot Orca from foam made for a special trade show marketing event.
Below are more examples of some foam custom props we've made.
custom foam sculpted prop projects by WhiteClouds
Custom Interactive Technology Integration Props
Combining custom props with interactive technology can elevate your marketing efforts to the next level. Incorporating sensors, touchscreens, augmented reality (AR), or virtual reality (VR) elements into your props adds an interactive and immersive dimension to engage and entertain your target audience. Interactive props provide an opportunity for customers to interact with your brand in a memorable way, forging a deeper connection and leaving a lasting impression. Here are a few examples of a few of our projects using new technologies with custom props.
custom interactive technology prop projects by WhiteClouds
Custom Wood Props
Custom wood props offer a timeless and natural aesthetic, bringing a touch of warmth and authenticity to any production or event. Crafted by our skilled artisans, these props showcase the beauty and versatility of wood, whether it's for period-specific furniture, rustic set pieces, intricate carvings, or durable structures. Custom wood props can be tailored to suit various themes, from historical dramas to fantasy worlds, providing a tactile and visually appealing element that elevates the overall ambiance. With their durability and unique charm, custom wood props are a perfect choice for those seeking to add a touch of craftsmanship and elegance to their creative endeavors. See some of our custom wood prop projects below.
custom wood prop projects by WhiteClouds
Custom Metal Props
Custom metal props offer numerous benefits. They can be tailored to specific requirements, ensuring a perfect fit for various applications. Their durability and longevity make them suitable for heavy use and adverse conditions. With different metal options available, they offer versatility in terms of weight, strength, and corrosion resistance. Overall, custom metal props provide reliability, customization, and visual appeal for a wide range of industries and creative projects.
custom metal prop projects by WhiteClouds
Pricing of Custom 3D Props

Timely Delivery and Budget-Friendly Options
We understand the importance of meeting deadlines without compromising quality. With our efficient workflow and project management systems, we strive to deliver your custom props within the agreed-upon timeframe. Moreover, we offer flexible options to accommodate different budgets, ensuring that exceptional prop-making services are accessible to projects of all scales.
The cost of custom props is based on the volume of materials (size of the model), type of materials, the time it takes to create the 3D design, production labor, and installation time and materials, as well as other specific elements unique to the project. Each model is bid individually and the best way to determine cost is to email us, call us at 385-206-8700, or fill out the form below and let us bid on your project.
Get a Free Price Estimate for 3D Props
Custom Fabrication Workflow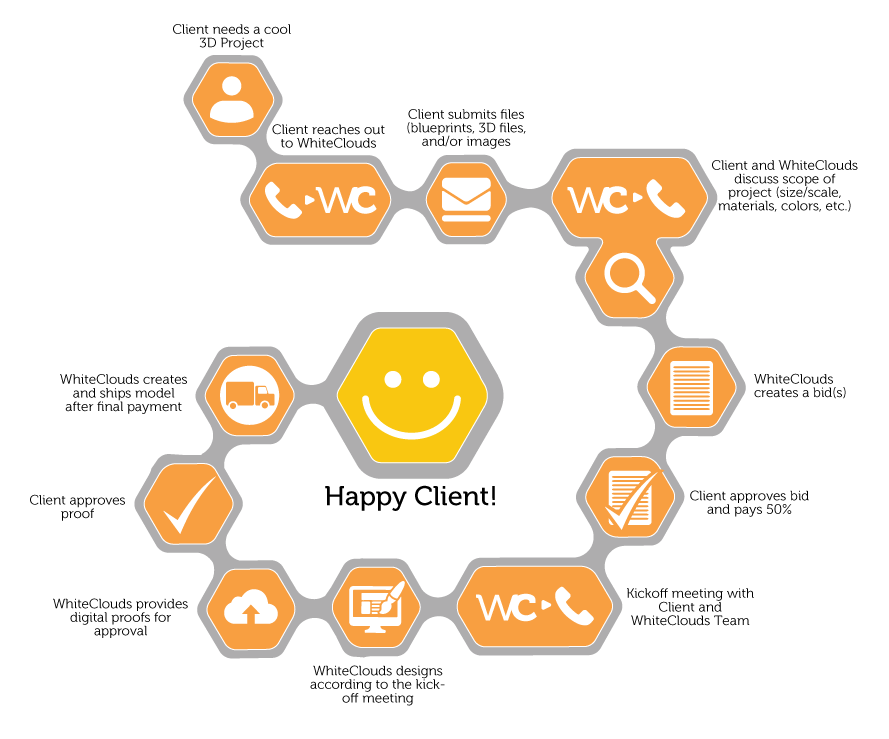 Common Questions & Answers
What file type is required to make a prop?
We work with all architectural CAD programs and modeling programs including AutoCAD, Revit, Chief Architect, ArchiCAD, Maya, 3DS Max Design, Zbrush, and Sketchup, just to name a few. If you design in 3D, we will start with your 3D files. If you have 2D blueprints and elevations, or artist's sketches, we can build a display/model from these files as well. If all you have is an idea or a napkin drawing, we can start with that.
What fabrication technology do you use for props?
It can be a number of different technologies, individually or combined. These range from Foam Sculpting, 3D Printing, CNC Cutting, metal welding, laser cutting, laser etching, casting, molding, thermoforming, sculpting, painting, airbrushing, laminating, vinyl printing, and woodworking – all meant to produce highly engaging props that fit your exact needs.
What is the material used?
We match the correct material and fabrication process to your requirements in terms of presentation, size, and transportability. We fabricate in our model shop using different types of foam, wood, metal, resins, and acrylics. We can also 3D print in full-color, uv-cured resin, plastic, or nylon.
What is the largest prop you can make?
There is no limit to the size of model. Transportability will be your only concern on an extremely large prop but we have experience in shipping massive props.
What is the turnaround time for a large custom prop?
This depends on the features of the model itself as well as the scale of the model and projects already in our queue. We understand that sometimes deadlines are tight and we try to accommodate rush orders.
What features can a prop have?
You can elect to ask for special lighting, sound, movement or any other special requirement you can dream up (within modern day technology limitations 😉
If I want a second prop is it cheaper?
Our pricing is based on the fabrication costs and the time it takes to prepare your design. In most cases, additional props would be less because the design is already completed. Also, if we know ahead of time that multiple props would be needed, we can plan the production materials and process accordingly.

What are the most common props
Props are objects used in various fields to enhance performances, presentations, or events. In theater, common props include weapons, furniture, books, and food items. Film and television often utilize cell phones, vehicles, and special effects props. Photography props encompass camera equipment, backdrops, and themed accessories. Magic and illusion involve playing cards, coins, hats, and wands. Events and parties feature balloons, decorations, and costume accessories. Education and presentations incorporate whiteboards, models, and visual aids. These are just a few examples of the wide range of props used to enhance different activities and productions.

 

What are the 3 main types of props


The three main types of props are:

Hand props: These are objects that actors interact with directly during a performance. Hand props can include items like weapons, books, tools, or anything that the character needs to handle or use on stage or screen. These props are often essential to the storyline and help create a realistic and immersive environment.

Set props: Set props, also known as set dressing or set dressing props, are objects used to decorate the performance space or set. They contribute to the overall ambiance and visual appeal of the scene but are not directly handled or interacted with by the actors. Set props can include furniture, artwork, plants, curtains, or any other objects that help establish the setting or atmosphere of the production.

Costume props: Costume props, also referred to as costume accessories or personal props, are objects that actors wear or carry as part of their costumes. These props are specifically designed to enhance the character's appearance or provide additional visual cues about their personality, occupation, or time period. Costume props can include jewelry, hats, bags, masks, or any other items integrated into the costume design.

These three types of props play different roles in a production, and each contributes to the overall storytelling and aesthetic elements of the performance.

What does a prop designer do
A prop designer is responsible for conceptualizing, creating, and overseeing the props used in various productions such as theater, film, television, and events. Their role involves collaborating with directors, set designers, costume designers, and other members of the production team to ensure that the props align with the overall vision and requirements of the project.


What are decorative props
A decorative prop refers to an object or item that is used primarily for aesthetic purposes, often in the context of visual displays, events, or interior design. It is intended to enhance the overall ambiance or theme of a space or setting. Decorative props can come in various forms, such as sculptures, vases, artwork, figurines, or even larger installations. They are typically chosen for their visual appeal, artistic value, or thematic relevance, and they play a crucial role in creating a desired atmosphere or conveying a particular message. Whether used in film sets, stage productions, retail displays, or home decor, decorative props add an element of style, creativity, and visual interest to the environment in which they are placed.

What material is best for props
When considering the best material for a prop, several factors come into play, including the prop's purpose, durability, appearance, and budget. One commonly favored material for props is foam, specifically foam latex or polyurethane foam, due to its versatility and lightweight nature. Foam can be easily sculpted, carved, and painted to achieve intricate details and textures. Additionally, it is durable and can withstand regular handling and transportation. For props requiring strength and stability, materials like wood, metal, or fiberglass are often preferred. These materials offer durability, rigidity, and can be shaped or molded into various forms. However, they may be heavier and more expensive compared to foam. Ultimately, the best material for a prop depends on the specific requirements of the project, striking a balance between functionality, aesthetics, and practicality.
Do you have a question we didn't answer? Don't hesitate to contact us at 1-385-206-8700 or [email protected].
WhiteClouds has delivered models around the world.