We build Custom Architectural Models
We build Custom Architectural Models
3D Architectural Models + Technology
It's often hard to visualize a 3D object, like a home or building, based on 2D images or computer simulations. An architectural model tells the entire story. Whether you are communicating and collaborating with the builder, homeowners, investors, or planning commission, an architectural model accurately portrays the idea. Concerns can be addressed and resolved before construction begins, saving time and thousands of dollars.
Now, with 3D printing and other modern technologies, models are created in less time, are more affordable, more accurate, and have a higher level of detail than ever before.
Architectural models are used in the planning, design, fundraising, construction, marketing and sales process of homes, office spaces, retail spaces, hotels, medical and government buildings, educational institutions, resorts, churches, and more.
Selected Projects Gallery
Features & Benefits of Architectural Models
A physical model provides a visual perspective that you can't achieve with blueprints, drawings, or digital 3D models. See our industrial models examples if you'd like to see more of these cases.
An architectural model helps the architect, contractor and client to envision the home or building on the build site to take full advantage of the views, terrain, and other natural elements, such as afternoon shade and morning breezes.
3D models help architects and contractors communicate effectively with clients, ensuring desired results and avoiding expensive changes once the project is under construction.
Models can be monochrome massing/conceptual models or full-color, high-detailed models.
No project is too large or too small, from cityscapes and commercial buildings, to homes and swimming pools—if you can design it, we can create a physical model of it.
Once the construction project is complete, architectural models make stunning public displays and are an excellent way to showcase your portfolio of projects.
Models can display the outside of the structure, or the layout and design of the interior of a structure. The model can have a removable roof or a cross section of the building or home showing the flow and points of view within the building.
Gallery of 12' University Architectural Diorama
Sales/Marketing
Architectural models are indispensable tools for selling and marketing real estate. A developer can show potential tenants or homeowners what they can expect once the development or neighborhood is complete. A scale model makes it easy to show retail and office space or apartments to potential tenants.
The video below demonstrates the use of one of these models from an exterior and interior perspective without ever having to visit the real home. Advanced 3D Printing was used to build facades to ensure maximum precision and detail. There are hundreds of individually designed elements showcasing accurate colors. Turn up the sound, hit play, and enjoy the show.
Trade Shows
Many construction companies and manufacturers participate in trade shows where their products or projects are much too large to display. However, through scale models, these companies can demonstrate and explain the benefits of their products.
City and Home Owners Association Approval and Permits
Some cities and homeowners' associations require an architectural scale model before they will approve a project. A model allows the association or city to view the home or other structure and ensure that it will be cohesive with the neighborhood and surrounding developments.
Dioramas
Dioramas are fascinating pieces of 3D art. Audiences young and old are captivated by the scale and intricate details of each display. Often found in museums, they provide valuable learning experiences as they bring history to life. Some dioramas showcase the beauty and geography of a modern-day city or college campus. WhiteClouds recently completed fabrication of a stunning 10' x 12' diorama of Brigham Young University's campus. To see more of our campus-wide BYU diorama, click here.
Fundraising
An architectural model is an excellent way to attract investors, sponsors and donors in a fundraising effort. A 3D model communicates what an individual or company will be investing in better than a 2D image. Models can be put on display during fundraising events or presentations and can also be used to garner even greater attention once the project is underway.
Public Display
Architectural dioramas are an engaging tool to bring public awareness to a new project. Both private and public construction projects can benefit from having a model on display for local citizens to view and understand the project and how it will benefit and impact them.
Conceptual Architectural
Designers will often create concepts that shape the future of architecture. While these designs aren't actually constructed, they can be modeled and displayed to inspire others to dream about the possibilities. 3D physical models are a good way to display building concepts that can't be constructed using today's technologies, but that might be possible in the future.
Gallery of 18' Museum Heritage Site Diorama
"The model then became the center point of a large media push—the cameras loved the detail and this awareness really helped give life to our goal of expansion. We have proudly displayed this model to our patrons over the last year. This three dimensional model has answered so many questions from our current patrons about what they can look forward to and truly bolstered our ticket sales and development efforts."
"The quality and finish exceed our expectations! Well done! Your team clearly put a lot of effort into this project, and we really appreciate the attention to detail and workmanship. Over the past 10 years we have purchased about 15 scale models from another company, and the quality of your models far exceeds that of any other 3D printed model built for us. Really impressive!"
"Since partnering with WhiteClouds, we have been able to enhance the entire architectural experience for our clients! The ability to recreate our client's custom log and timber frame home design in the form of a 3D print model, provides a greater clarity as to how the project will look and feel on the specific topography of their building site."
Technology and Materials for 3D Architectural Models
With 3D printing technology, you aren't limited to straight lines and boxes. A 3D printer can easily print curved walls and rounded rooflines.
We can 3D print models in different materials, including UV-cured resin. The type of model determines which material will produce the best results. We can help you choose the material that is best for your project.
3D printed architectural models show incredible detail. The resolution of our printers is finer than a human hair.
Architectural models can be 3D printed in full-color (over 750,000 variations of color) for awe-inspiring presentations and displays. No painting required!
Pricing of Custom Architectural Models

The price of a diorama model varies greatly because of size and complexity and can range from a few thousand dollars to a few hundred thousand dollars with some even in the millions. Each diorama model is bid individually and the the best way to determine cost is to email us, call us at 385-206-8700, or fill out the form below and let us bid on your project.
Get a Free Price Estimate for 3D Architectural Models
Custom Fabrication Workflow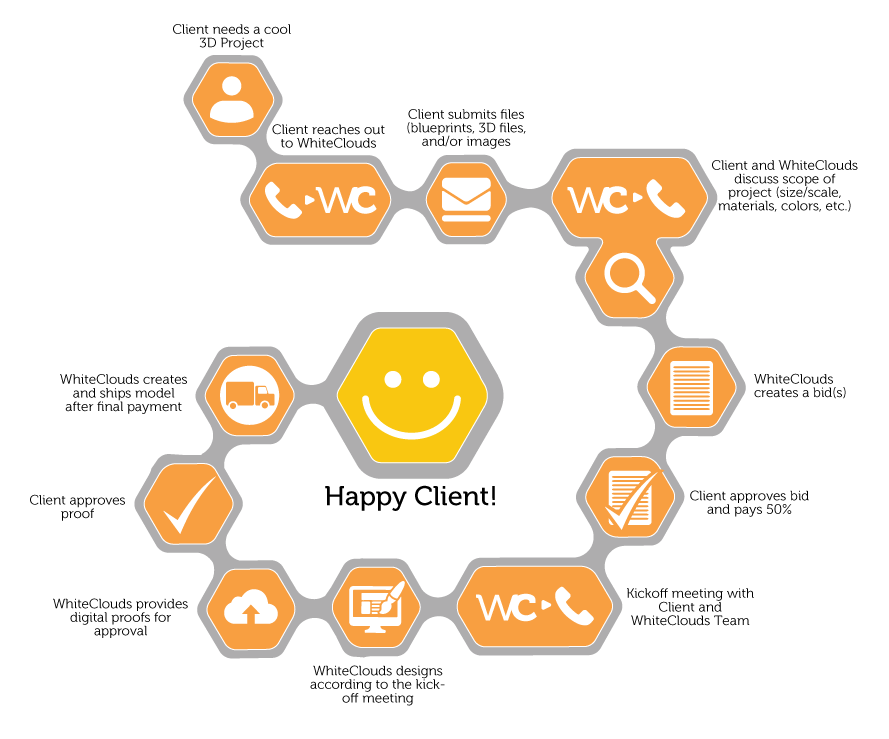 Common Questions & Answers
What file type is required to 3D print a model?
We work with all architectural CAD programs including AutoCAD, Revit, Chief Architect, ArchiCAD and Sketchup, just to name a few. If you design in 3D, we will start with your 3D files. If you have 2D blueprints and elevations, or artist's sketches, we can build a model from these files as well.

Do the printers print in color?
Yes. Most of our architectural models are printed in full-color. Anything printed in UV-cured resin materials are a single color but can be painted.

What is the material used?
Most of our architectural models are 3D printed in UV-cured resins. We also use hand modeling techniques for large topographies and landscapes.

What is the largest model you can 3D print?
The build envelope on our larger printers is 9" x 15" x 20". This is the largest model we can print in a single piece. We can 3D print larger models in multiple pieces.

What is the turnaround time for a 3D-printed architectural model?
We usually ask for four to six weeks from the time we take the order to when you will receive the model. We understand that sometimes deadlines are tight and we can accommodate rush orders in as little as one week.

Can you 3D print the interior of a home or building?
Yes. We can create a model with a removable roof and floors so you can see the layout of the home.

Could I use a 3D printed architectural model as evidence in a court case?
Our architectural models are accurate, highly-detailed, and add value to court cases as demonstrative evidence. In 2013, we created a courtroom exhibit of a residence that helped the defense attorney win his client's case.

Can you 3D print terrain, swimming pools, arbors, hardscaping features, etc.?
Yes. We can print any features you need.

If I want a second model is it cheaper?
Our pricing is based on the amount of material used and the time it takes to prepare your design. The second model is less money because the design portion is complete.
WhiteClouds has delivered models around the world.
History of Architectural Models
Architectural Scale Modeling has a lengthy history. Archaeologists have found examples of fired-clay models of buildings from as early as 4600 BC. These early models were probably not used to demonstrate building techniques, but rather as gifts or grave goods – to be placed in the tombs of the deceased. The earliest known use of architectural models as a mechanism to demonstrate a proposed building comes from the early Roman empire, probably around the first century AD.
As the complexity (and thus the expense) of architectural projects increased, the ability to present a client or financier with a model to assist in visualizing the finished product became more and more important. During the Renaissance, architectural models were extensively used by such preeminent architects as Michelangelo, Filippo Brunelleschi, Antonio da San Gallo, and Christopher Wren. Leonardo Da Vinci was known to use models to explore his ground-breaking ideas, art, and discoveries in many areas, including architecture.
In modern times, with the advent of Computer Aided Design, the ability to visualize large-scale architectural projects has increased exponentially. With current techniques, architectural model-makers can create accurate, high-fidelity scale representations of finished projects with unparalleled detail and precision.