We Build Custom 3D Floating Logos, Foam Logos, Lighted Logos and Logo Art of any size or shape.
We Build Custom 3D Floating Logos, Foam Logos, Lighted Logos and Logo Art of any size or shape.
Your business is uniquely you. Why not make it visible to the world in creative ways? An excellent way to do this is to give customers an impactful, physical model of what your business is. Every business has a logo. What would make your business any different? 
Having a logo is undeniably important to any business, but creating an attraction out of your logo would be taking that next big step to garnering attention. Posing near creative logos for a selfie have become the highlight of many social media posts and stories. If your 3D Logos are designed in such a way to include an interactive element, whether that includes walking between giant letters or inserting a seat in the middle for a photo-op, consumers will be fascinated and entertained. If you want to go small-scale, floating logos can be created to avoid any distracting stands or backdrops for the full effect. The incorporation of LED lights draws the eye. With bright colors, unique formations, and special effects, your logo could be designated a work of art. The possibilities are endless! 
Some amazing 3D Logos can be created with styrofoam or expanded polystyrene (EPS). Whether it's for a yearly conference your business is hosting, a trade show or a sporting event, or even just to place in the lobby of your building, 3D Logos are great attention grabbers. At WhiteClouds, we cut fine details like lines and curves into large blocks of EPS foam to create custom 3D Logos to your specifications. At times, it may be beneficial to add large foam letters and large numbers to your display.
Gallery of Selected 3D Logo Projects
Sizes – When you think of that awesome display for the perfect office display, trade show or event, 3D logos make it happen. All sizes of polystyrene logos are available. Think big – 6' or 10' giant letters are very possible to create. Thinking outside the box, custom 3D logos can be deeper than they are tall, or you could make them out of proportion, creating a unique design.
Fonts – Any style and size of font can be applied to your custom 3D logo.
Materials – 3D custom logos are typically made from EPS foam (very light in weight), but plastic, wood, metal, and combinations are also available to complete your design.
Professional Creators – We have a team of designers, artists, model-makers, painters, air-brushers, sculptors, carpenters, and welders to fabricate 3D logos with imagination, immersion, and experiential aspects.
Finishes – We use many different finishes including unpainted in natural white or painted in a standard or custom color with matte or semi-gloss finishes. Lamination is also available. Even automotive paint finishes can be applied for extremely glossy finishes. Airbrushing of special designs can also be ordered.
Strength – Very often 3D logos are meant to be temporary and self-standing. Other times they may require structural components to be strong and durable.
Project Size – No project is too large. Whether you need one logo or several is no problem. If you can design it, we can create a physical model of it. If you can't design it, we have a team of design professionals who can. We can work with preparing 3D models from drawings, photos, scans, and even napkin drawings.
Capacity – Did we mention, we have 45,000 square feet of production facilities in Utah, including the largest capacity of full-color 3D printing in the world.
Technologies – At WhiteClouds, we use many different technologies including Foam Fabrication, Hot Wiring, CNC Cutting, Laser Cutting, Welding, and six different 3D Printing technologies.
Combination – At times, it makes sense to combine 3D logos with large foam letters, large numbers, special themed displays, or trade show displays.
Special effects – We have the team that can create your custom 3D logos to include custom electronics, lighting, and sound.
We use foam fabrication technologies such as CNC Cutting, Hot Wires, Laser Cutting, Hot Knifing, and Sculpting.
Our in-house spray booth gives us flexibility in different types and grades of paint and finishing capabilities.
We match the correct material and fabrication process to your requirements in terms of presentation, size, and transportability. Our 3D logos are typically made with EPS foam or metal, but may also include wood, resin or acrylic. 

We can also 3D print in full-color, UV-cured resin, plastic, rubber-like acrylic, and nylon.

Depending on requirements for durability, weather-proofing, temperature, mobility, strength, and flexibility, different finishes for our large letters can be used. These finishes may be combinations of painting, air-brushing, flat-to-glossy finishes, natural environment finishes, soft-shell and hard-shell coatings, sealers, and glassing. These can be from latex, acrylic, urethane, polyurea, epsilon, polyurethane, and many others.
The cost of custom 3D logos are based on the volume of material (size of the sculpture), the time it takes to create the 3D printable file or CNC file, and other elements of the model. Each 3D logo is bid individually and the best way to determine cost is to email us, call us at 385-206-8700, or fill out the form below and let us bid on your project.
Get a Free Price Estimate of a Custom 3D Logo
Custom Fabrication Workflow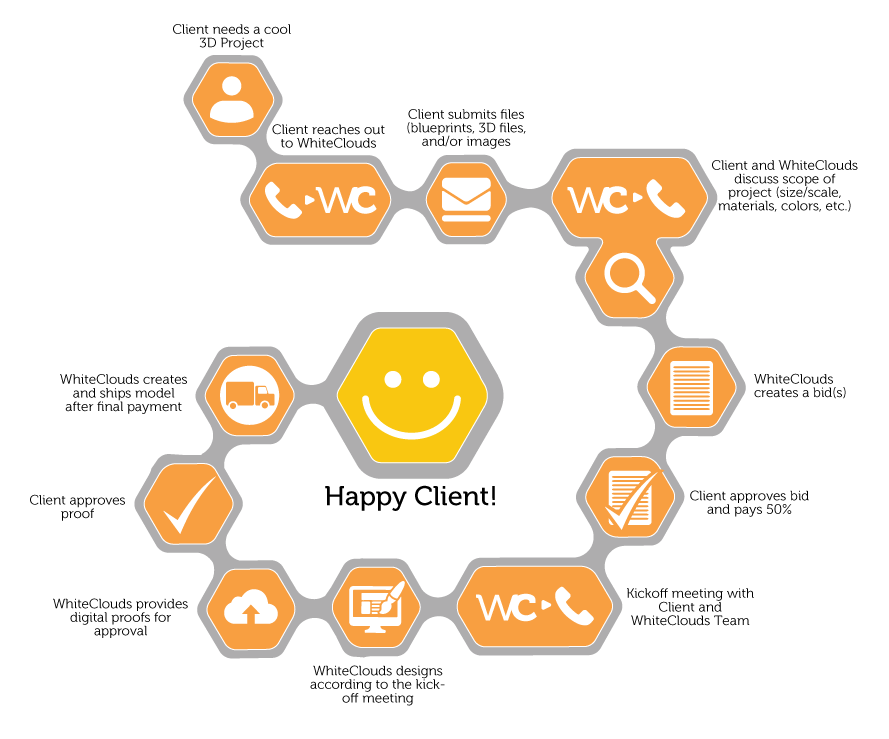 Common Questions & Answers
Can you use my custom artwork to match our 3D logo?
Yes. Please send us your file in a vector AI, EPS, or PDF format.

Can I use a custom font?
Yes, you can use a custom font for your 3D logo project. You will need to send us the font in a .ttf (True Type format). If we are buying the font for you, there will be an additional fee.

What file type is required if I need to incorporate special fabrication into the project?
We work with all architectural CAD programs and modeling programs including AutoCAD, Revit, Chief Architect, ArchiCAD, Maya, 3DS Max Design, ZBrush, and Sketchup, just to name a few. If you design in 3D, we will start with your 3D files. If you have 2D blueprints, artist's sketches (or even napkin drawings), we can build a model from these as well.

What is the material used to create my 3D logo?
We match the correct material and fabrication process to your requirements in terms of presentation, size, and transportability. Our 3D logos are typically made with EPS foam or metal, but may also include wood, resin or acrylic. We can also 3D print in full-color, UV-cured resin, plastic, rubber-like acrylic, and nylon.

Need a special facing? 
The sky is the limit!

What is the largest model you can 3D print?
There is no limit to the size of model. Transportability will be your only concern on an extremely large 3D logo.

What is the turnaround time for custom-built 3D logos?
This is totally dependent on the size of the project. Typical projects can be completed in six to eight weeks. We understand that sometimes deadlines are tight so we often accommodate rush orders in shorter amounts of time.

What special effects can 3D logos have?
Besides the physical 3D logo with the proper color and appearance, you can also add electronics, LED lighting and sound.

If I want a second 3D logo is it cheaper?
Our pricing is based on the fabrication costs and the time it takes to prepare your design. The second sculpture is less money because the design portion is complete.
Do you have a question we didn't answer? Don't hesitate to contact us at 1-385-206-8700 or [email protected].
WhiteClouds has delivered models around the world.
Creation Process for Custom 3D Logos
Our internal steps for creating customized 3D logos are:
If available, we like to receive a CAD file (drawing file) or EPS file from our customer. Many times we will design the file with our team of designers based on requirements from the customer. If letters need to be stand alone or attached to a base, then some design work is required.
The next step depends on the type of technologies required. Most of the time we create letters with EPS (Expanded Polystyrene) foam, so the next step would be to upload the file to the computers connected to our CNC hot wire foam cutting equipment and then each letter shape is cut and then placed into production. If creating extremely large letters, we may need to glue multiple blocks of foam together.
Our foam comes in different densities. The desired finish and design requirements will dictate which density we use. The higher the density, the smoother the foam (and also more expensive). Typically, we use 2 lb. EPS.
Logos may be attached or connected to other materials for specific desired looks.
Individual logos are prepared for finish work. They may be glued, sanded, primed, painted, airbrushed, etc. depending on customer requirements. We may need to spray on a protective plastic coating depending on required durability and weather resistance.
If the logo need to be attached to a structure or stand, we then do the necessary work to finish off the project.
Logos are prepared for shipping by either being wrapped/packaged in foam or special shipping containers.
For 70,000 years, people have been using graphic art to communicate information. From animal paintings in caves and on pottery to hieroglyphics and sculptures, each symbolic image and color meant something. In medieval times, heraldry came to be. Designing a single coat of arms was consisted of combining specific colors and shapes that enabled people to identify nobility, opposing armies, and allies.
As the population increased, there was a need for shops to sell needed supplies. As literacy was reserved for the aristocratic few, more and more shops hung signs with symbols on them to show what products were offered within. In 1393, King Richard II of England passed a law that required alehouses to display signs so the official ale taster could identify them and inspect the quality of ale sold in their establishment.
Owners began adding heraldic images to the signs they displayed, and images like the Green Dragon, the Red Lion and the Two Cocks became local favorites. Here's where brand loyalty gets its start. Patrons gathered at their favorite brewery for a pint and to spread the word of the refreshing libations.
The Gutenberg press was invented in 1440, and by the late 15th century, printers had designed logos as a way to identify their work. Logos were designed and used. In the mid-1600s, we're introduced to prevalent newspaper circulation – with advertisements multiplying rapidly. Incorporating imagery in their ads was a sure way to set a business apart from their competition.
In 1840 chromolithography was introduced in the United States and voila, posters, colored labels and advertisements were printed in color. With the Industrial Revolution and the new technology, more people had money to spend. So more shops opened and branding evolved to accommodate new businesses.
The modern era of logo design got its start in 1885, when Frank Mason Robinson designed the Coca-Cola logo which is one of the world's most recognized brands today. In 1914, Pierre de Coubertin designed the Olympic flag. Five circles, each a different color. It is recognized by not just by the image on the flag, but by its cultural significance.
Jump forward a few decades to the 1950s when IBM's logo was designed by Paul Rand, and businesses began to put more thought into their designs. By 1962, computer art emerged and brought more changes to the logo design industry. In 1977, the I <3 NY logo was designed for the New York State Department of Commerce. Later, the US National Highway Traffic Safety Administration (NHTSA) designed the Star of Life logo that is displayed on every emergency services vehicle.
Computer-aided drawing (CAD) and computer-aided imagery (CGI) came to be in the 1970s. As personal computers became more popular in the 1990s, more options for logo design became available. Then with the development of Adobe InDesign and Photoshop, the world of creativity exploded, and digital graphic design was available to all. 3D digital logos are created by a style called skeuomorphism, which brings depth to the logo design using gradients, drop shadows, and faux wood and metallic textures. MTV is an excellent example of this style of design.
In the last few years, logo design has evolved one step further. More and more companies realize the need to have multiple iterations or versions of their brand. We now have the technology to make that happen by creating physical models of 3D logos with wood, plastics, and expanded polystyrene (EPS) foam (or Styrofoam as some refer to it). Riding the wave of technology enables us to develop our brands in new and innovative ways. The possibilities are endless!
Fun fact: The top ten most iconic logos of all-time are Starbucks, McDonald's, Apple, FedEx, Mercedes, Pepsi, Nike, Coca-Cola, Chanel, and Mickey Mouse.