We Build Custom Large 3D Metal Letters
We Build Custom Large 3D Metal Letters
Metal may be the best material if you need something durable to withstand the outside elements, you want a particular metallic finish for aesthetic reasons, or it needs to support a lot of weight. WhiteClouds is capable of creating anything you can imagine, but we specialize in the extra-large or extraordinary. Make a statement with large 3D Metal letters at a school, college, university, park, shopping mall, business. Use them as a tradeshow display, logo signage, campus art, office furniture, conference backdrop, photo prop, or a host of other creative applications. We can make virtually any size or shape. Our expert artisans will help bring your visions to life, whether it's from a text description, a simple 2D sketch, or a fully rendered 3D model. If you're looking for something more light weight and don't need the durability that metal provides, check out other options from our large letters page.
"I just really wanted to thank you and your company for your incredible expertise and the beautiful work that was done on our sign. It is an absolute game changer for us and a stunning strong symbol of who we are and what we're about. In the future, I'm thinking of having a miniature model of it created to give as gifts to people who are donors and benefactors to the school."
Several factors are considered when choosing the metal material and thickness. Cost, aesthetics, durability, conductivity, weight, bendability, workability, and corrosion are a few examples, and our estimators take all these things into account in the bid process, so you get the best and most economical material for your specific needs. We have a complete variety of metals to choose from, such as aluminum, steel, stainless, galvanized, corrugated, diamond plating, and more. You can read more about the pros and cons of each metal type below.
Metal thickness depends on the job, but we work with metal in thickness from ½" plate to 24 gauge sheetmetal. 'Gauges' are used to specify the thickness of sheet metal and is neither a standard nor metric measurement system. It likely originated from Britain before the standard and metric systems were adopted. Since then, it has remained the primary method of designating both wire and sheet metal thickness. Gauge designations differ according to the specific metal type. The lower the gauge number, the thicker the metal is. For example, 16ga steel is .065" thick and 14ga steel is .083" thick.
Our quality finishes prevent the signage from getting scratched, rusted, or tarnished and range from full-color automotive paint to powder coating, clear, brushed, chrome, polished, satin, oxidized, or vintage. These finishes may include painting, airbrushing, flat-to-glossy finishes, natural environment finishes, soft-shell and hard-shell coatings like polyurea, sealers, and glassing. We can match a specific Pantone color or airbrush beautiful gradients. Browse our website for examples of our fantastic paint finishes.
With so many cheaper and lighter materials that could be used for large displays and letters such as fiberglass or high-density foam, why might metal be the best option?
Durability – While Fiberglass can be very hard, it can also be brittle and is subject to cracking, breaking, etc. Metal is strong and durable. There's less risk of it breaking during transit or installation and once it's installed, it could last forever as long as it's treated correctly and kept from the elements.
Strength – Metal letters can withstand almost any weight if it is built with that in mind and it can take a lot of abuse. The letters installed at Sharp Corner Park are meant to be climbed on, sat on and played on. You might even want a unique conference table base formed in your logo image or company name.
Unique Metallic texture and color – This goes without saying but metal is used in countless ways for aesthetic reasons as well as practicality. The sleek, smooth, reflective surface in modern design is hard to replicate with other materials. Or, perhaps you would like something rusty and vintage – again, this is hard to fake or replicate with other materials.
See examples of other Large Letters, or Large Numbers fabrication methods.
Metal Letter Technology & Materials
With our 3D metal fabrication capabilities, you aren't limited to straight lines and boxes. Our plasma cutters and metal rollers can easily create curved walls and rounded structures allowing us to create metal letters in any font.
WhiteClouds uses a combination of metal fabrication equipment – large hydraulic shears and CNC plasma cutting water tables for cutting, sheetmetal leaf brakes for bending, heavy-duty power plate bending rolls for rolling and shaping curved surfaces, MIG (metal inert gas) welders for welding all of the pieces together, metal grinding and sanding equipment for performing the finish work in preparation for our painting processes.
We can help you choose the material that is best for your project.
With the use of our automotive paint booths and special paint guns, our letters can be painted to match the aesthetic design of your project. We even have paint airbrushing capabilities to create unique and very detail designs for those custom letters.
Hot rolled and cold rolled Steel Steels of different grades and specifications can be either hot rolled or cold rolled. The difference between the two refers only to the temperature they are processed under. Certain types of steel are better suited for certain applications. Hot rolled steel is easier to work with. It also requires less processing and is, therefore, much cheaper. Cold rolled steel, however, is used when more precision applications are needed or for aesthetic reasons when a specific surface characteristic is desired.
Aluminum Metal Aluminum can be finished in natural satin, anodized, or polished coatings and can be clear-coated or painted. This is a lightweight solid metal at a cost-effective price. It is not as strong as steel but is a third of the weight. It also has better thermal conductivity.
Diamond Plating Metal Diamond Plate is also known around the world as tread plate, checker plate and floor plate. Its name comes from the diamond raised surface pattern that gives the metal traction in certain applications, therefore it is seen regularly in shipping docks, walkways, running boards or steps. This unique pattern and highly reflective surface also makes it desirable in decorative, cosmetic and architectural applications. It can be made from Aluminum, Carbon Steel or Stainless Steel.
Stainless Steel Stainless steel is a non-porous steel alloy with superior corrosion resistance compared to carbon/alloy steel. Alloy content differs but usually includes iron, copper, chromium, nickel or molybdenum and manganese. It is stronger than aluminum and is a poor conductor of electricity and heat.
Corten Steel Cor-Ten is a weather resistant steel that is often used in outdoor construction. It has a natural antiqued rust finish when exposed to the elements that appear in just a few months. This layer of rust is allowed to develop and regenerate continuously when subjected to weather and it forms a protective coating.
Different finishes for our metal letters and signs can be used depending on requirements for durability, weather-proofing, temperature, mobility, strength, and flexibility.
Automotive Paint Our in-house spray booth gives us flexibility in different types and grades of paint and finishing capabilities. High-grade automotive paint works best for most applications because of its long-lasting durability, corrosion-resistant and scratch-resistant finish. Acidic primers are applied before painting.
Polyurea ULXL66 Hard Coat Polyurea is a chemically-developed polymer coating stronger than most commonly used outdoor protective coatings, reaching a 60 on the Shore D Hardness Scale*. Polyurea can protect various surfaces from chemical or physical damage and can also strengthen structure and improve outward appearance. Among its many benefits are its highly flexible and water-resistant properties, as well as an incredibly quick setting time. Visit our Polyurea ULXL66 page for more information on its various benefits and cost.
Chrome Finish Chrome Plating is a technique of electroplating a thin layer of chromium onto a metal substrate. It is as aesthetically pleasing as it is durable. Chrome finishes are brighter and shinier than stainless steel, but they can also scratch and show fingerprints and dirt easily.
Powder Coating Powder coating is a dry finishing process for a wide array of products, including metal, that gives it a high-quality, durable finish. It is applied as a dry powder through an electrostatic process, then cured with heat. Powder coatings are available in an almost endless range of colors and textures. Powder-coated projects are more resistant to impact, moisture, chemicals, UV light, scratches, chipping, corrosion, fading, and other wear issues.
Installation materials and costs will depend on how each finished product will be used. This is determined as part of the bid process before we begin the project. 3D Metal signage will be shipped for self-installation, or we can send a crew for on-site installation. Large free-standing metal structures will have metal brackets welded to the bottom so they can be bolted to concrete or metal slabs.
Below are a few videos showing how easy it is to install these metal letters. You can also read our entire 'Bear Down' University of Arizona Metal Letter display Case Study.
The cost of your metal 3D letters or signs is based on the volume of materials (size of the finished piece), type of materials, production labor including 3D design, metal cutting, grinding, welding, finish material costs, labor, installation time and materials, if applicable, as well as other specific elements unique to the project. Each 3D metal project is bid individually, and the best way to determine cost is to email us, call us at 385-206-8700, or fill out the form below and let us bid on your project.
Get a Free Price Estimate
Custom Fabrication Workflow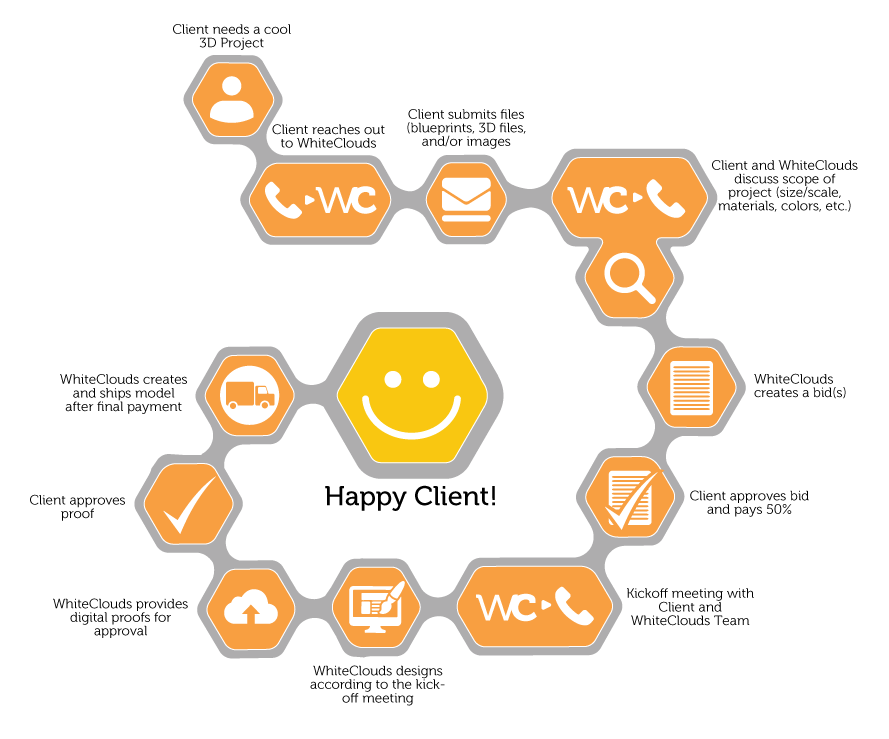 Common Questions & Answers
Can you use my custom artwork?
Yes. We work with all architectural CAD programs and modeling programs including AutoCAD, Revit, Chief Architect, ArchiCAD, Maya, 3DS Max Design, Zbrush, and Sketchup, just to name a few. If you design in 3D, we will start with your 3D files. If you have 2D blueprints, artist's sketches (or even napkin drawings), we can build a model from these as well. For 2D concept art, vector files work best.
Can I use a custom font?
Yes, you can use a custom font for your large letters project. You will need to send us the font in a .ttf (True Type format). If we are buying the font for you, that will be additional.
Is there a minimum or maximum size?
There is no limit to the maximum size of the letters. Transportability will be your only concern on an extremely large letter model. Although we can accommodate any 3D letter request, larger sizes at least 3 feet or above are our preference. Our average size letters are 4 feet to 8 feet tall. For extra-large displays, we may produce in sections so they are easier to transport and move.
How heavy are they?
This is completely dependent on the specific job size and requirements but there are many options we have to reduce weight including different metal materials and thicknesses. For extra-large jobs, we may produce in sections so they are easier to transport and move. Typically, our finished products are no heavier than what 2-3 people can move.
What additional features may my large metal letters have?
Creativity is our specialty. Give us an idea of what you're looking for and let our team give you some options. You might consider mounting your metal letters on unique backgrounds or bases of any size and shape and material. View our galleries for ideas.
What is the turnaround time for large letters?
This is totally dependent on the size of the project. Typical projects can be completed in four to six weeks. We understand that sometimes deadlines are tight and we can accommodate rush orders in shorter amounts of time.
What is the metal material used?
We match the correct material and fabrication process to your requirements in terms of presentation, size, and transportability. Each metal has specific properties that may be better suited for different use cases. You may read about the differences in metal types in our Metal Materials glossary above. We typically use Aluminum, Hot Rolled Steel, Stainless Steel, Diamond Plating Metal or Corten Steel.
What is better, Automotive Paint or Powder Coating?
Automotive paint and powder coating both produce a long-lasting and durable, hard finish that is protective and decorative. Automotive paint can last approximately 15 years while powder coating is 20 years. Powder finishes are typically stronger and more durable than automotive paint coats but it is more expensive and heavier. Automotive paint has more color options than power coating.
How hard are these to install?
We design each letter's installation to be as easy as possible and this is determined in the bidding process before production starts. They are typically installed with bolts that allow connection of metal brackets that have been welded to the letters to a concrete slab. No professional experience is required. Watch the above videos of some extra-large letters being installed..
How much more expensive are metal letters compared to other materials?
Metal letters may not cost much more than outdoor-grade foam or fiberglass and it's well-worth the extra investment because they are much more durable and strong.
How hot are the letters in the sun?
This really depends on the color of the finish but a good comparison would be how hot cars get in the sun. Black cars get much hotter than lighter or white cars.
Aluminum vs Steel
There are pros and cons to both aluminum and steel so depending on your job requirements and how the letters will be used, one metal might be better suited over the other. For example, over long periods of time, steel can rust if exposed to the elements but aluminum can also anodize over time. Our high-quality paints reduce the risk of rust and oxidization. Aluminum is lighter, steel is stronger. Aluminum is much more expensive. For other differences, read our metal materials glossary above.
Do you have a question we didn't answer? Don't hesitate to contact us at 1-385-206-8700 or [email protected].
WhiteClouds has delivered models around the world.
Creation Process for Metal Letters
Our internal steps for creating large letters are:
If available, we like to receive a CAD file (drawing file) from our customer but a simple 2D sketch will do if that's all you have. Many times we will design the file with our team of designers based on requirements from the customer. If letters need to be stand alone or attached to a base, then some design work is required.
Our metal comes in different gauges or thicknesses. The desired finish and design requirements will dictate which metal type and thickness we use.
According to the detailed approved bid, our artisans begin work by cutting, bending, rolling, welding, grinding, and forming the metal to get the desired shape.
Letters may be attached or connected to other materials for specific desired looks.
Individual letters are prepared for finish work. They may be polished, sanded, primed, painted, airbrushed, etc. depending on customer requirements.
If the letters need to be attached to a structure or stand, the metal brackets and hardware is completed according to the original bid. This needs to be determined pre-production.
Letters are prepared for shipping by either being wrapped/packaged in foam or special shipping containers as outlined in the bid proposal.
WhiteClouds has completed or can create 3D metal projects that range from Corporate Metal Wall Signs, 3D Metal Logos, Free-Standing Metal Outdoor 3D Letters, Metal Tradeshow 3D Displays, Metal Memorials, Metal Lighted Displays, Metal Letter Photo Props, Campus Art, and more.