WhiteClouds uses 3D printing, fabrication and expert craftsmanship to create custom small scale models of products, renderings, buildings or equipment
Small scale + technology:
Looking to create scaled-down custom models of equipment, products, buildings or iconic items that identify customers with your brand? Custom small scale models are a powerful way to illustrate a key aspect of your business, draw visitors to a showroom or a display and create social media buzz. Customized scale models are an ideal way to illustrate for customers, residents or visitors the details of a conceptualized new development or building or to create a way to connect with your customers and give customers a real sense of your identity.
The key to custom scale models is that they grab the attention of your audience, showcase your brand, make a statement and are a way to be creative and unique. They are a compelling way to connect customers, visitors and others to your brand or project, while teaching or entertaining or both.
With our new, next-generation fabrication facilities, we can custom design, create and paint your custom miniature model. We can work from your own designs or create a product for you. Our products are durable and built to endure the elements and the high levels of interaction they could possibly have with thousands of people.
Small Scale Model Project Gallery
How are Scale Models Used?
3D scale models can have a wide range of uses and applications. Our customers have used these finely detailed, eye-catching pieces as part of cool trade show displays, window product displays, in interactive exhibits, to showcase miniature versions of equipment, as industrial models. Custom scale models are an ideal way to create scaled-down dioramas of university campuses or campus buildings, residential areas or community spaces. They can be used to show examples of planned new buildings, statues or characters, as props and as part of 3D art or museum pieces.
Custom scale replicas give you a unique opportunity to illustrate your products, create memorable experiences and build buzz for your company, products or brand. They are affordable, customizable and built by skilled craftspeople with extensive experience in creating the solutions to meet your needs. No project is too small (or too big) and we stand by the quality of our work and the impact it will have on you and your business. Let our custom miniature models be part of the solution you need to bring creative ideas to realization.
Manufacturing: Tools and parts, agriculture equipment, transportation, industrial models, machinery, automotive
Building small representations of large concepts such as industrial equipment, machinery, or manufacturing equipment layouts helps companies visualize, test, and demonstrate large ideas. We build small-scale designs using 2D images and computer simulated designs. To help communicate functionality, models can include moveable parts, cutaway views, lighting features, and interactive features. See more industrial models.
Example: Large equipment models are created in a small form for showcasing design ideas at trade shows or conventions so buyers and investors can better understand how the full-sized object may meet their needs.
Trade shows and demonstrations: Trade show models, trade show displays and services, product demos
Nowadays, trade shows are all about the bang! People want interaction with an injection of realism to provide a unique and memorable experience. For trade shows, we can create small-scale replicas of large concepts such as an amusement park, airport, or hospital. 
Or, small scale models are used to demonstrate concepts such as a new mechanical concept, branding idea, or SaaS process to a group of stakeholders or investors. See more trade show displays examples.
Example: An architecture or construction firm just finished building an expensive and beautiful medical facility. Small versions help demonstrate their abilities to prospective customers.
Proof of concept: Product design testing, prototyping, branding, pitch deck support items, funding support
Nearly everyone creates a prototype or small-scale version before investing in building the full-scale item. Miniature versions help people test ideas, communicate with potential customers, and demonstrate concepts to investors. While you have surely tested ideas using 2D methods or computer models, creators and customers learn more with a 3D design.
Example: A sales team creates a great pitch deck to present to a potential customer. A 3D model of the product or concept adds another powerful way to demonstrate the product.
Entertainment and advertising: Movies and TV, set design, special effects, commercials, character models
3D prints of miniature objects are often set in set design, special effects, video character representations, and video game and cartoon production. While digital technologies can create realistic game and movie scenes, small-scale modeling is still used to help create hyper-realistic visuals. See more 3D prop models.
Example: Physical miniature models used in advertising displays and/or in TV ads
Architectural Dioramas: Residential homes and neighborhoods, educational facilities, manufacturing plants, parks, tech campuses
Small scale models have been used in architecture for hundreds of years. Whoever built Stonehenge likely built a tiny rock model first. Fifty years ago, these models were painstakingly created using wood, foam, paint, and glue. Next-gen 3D printing technologies alongside traditional carpentry and artist skills create next-level architectural dioramas. See more architectural diorama models.
Medical and Health Care: Educational models, surgery preparation, prototypes, prosthetics
Medical software advances quickly. You can even find technologies that produce 3D images. But often, 3D medical models are more useful. Doctors have used our 3D models to help guide them through complicated surgeries. Printed scale models can be used to test new medical equipment designs. Or, 3D printing technologies can be used to create realistic educational models. See more medical 3D models.
Features and Benefits of Custom Small Scale Model Fabrication:
When you're committing to a custom scale model, you want to be sure you're getting a high-quality product that has the details, quality materials and customization you expect. Here are a few of the key features and benefits of our products:
Impact. A custom small scale model such as an architectural rendering can provide a visual perspective that cannot be achieved using 2D blueprints or drawings or digital renderings
Size. No matter how large or small your desired product is, we can build it. We can go large – building 6-, 10- or 20-foot products – or small, with products measured in inches. Our completed finished products will have the fine attention to detail that makes an impact
Details. Imagine being able to replicate the finest of details on your completed model. Our modern 3D printing technologies mean that details as small as 16 microns (as small as 1/6th the size of a human hair) are possible
Communication. A custom scale model helps you communicate the concepts, features and desired outcomes to customers, clients or communities, especially in the conceptual stages, while eliminating the risk of costly later changes
Project Design. Whether you have scans, sketches, photos or scribbles on a napkin, we can create 3D models. We can work from your existing designs to make a physical model or, if you do not have designs yet, our professional design team can create them for you
Materials. Foam and 3D printing is the most common methods used in our custom models, but our products can be made of metal, plastic, wood, or in combinations, depending on your needs and preferences. High-density foam, also known as high-density urethane, is highly durable, waterproof and machinable, and will not warp, crack or peel
Technologies. Each customized scale model is unique and may require different techniques. We use foam fabrication, hot wiring, CNC cutting, laser cutting, welding, woodworking and fiberglass along with 6 different 3D printing technologies
Expert Creators. We employ a team of highly skilled designers, artists, painters, model-makers, air-brushers, sculptors, carpenters and welders to fabricate these small scale models with imagination and immersion in all aspects of the creative process
Finishes. There are multiple options for finishes on your customized small scale model. You can choose an unpainted product in natural white or paint in standard or custom colors with matte or semi-gloss finish. Automotive paint can be applied for a very glossy vanish and lamination and airbrushing are also available
Technology and Materials for Scale Models
We use foam fabrication technologies such as CNC Cutting, Hot Wires, Laser Cutting, Hot Knifing, and Sculpting.
With 3D printing technology, you aren't limited to straight lines and boxes. A 3D printer can easily create detailed, complex shapes. We use six different 3D printing technologies using different materials including sandstone-like, digital plastic, and UV-cured resin. The type of physical end-product determines which material will produce the best results. We can help you choose the material that is best for your project. Resolution on our printers is finer than a human hair. Our color 3D printers can print in full-color (over 750,000 variations of color) for awe-inspiring reality.
Depending on the project, we may use composite structures to fabricate your model. This technology uses a combination of materials including metal, sheet metal, wood, foam, fiberglass, and steel framework for added strength and durability.
Our in-house spray booth gives us flexibility in different types and grades of paint and finishing capabilities.
Depending on requirements for durability, weather-proofing, temperature, mobility, strength, and flexibility, different finishes for our large product replicas can be used. These finishes may be combinations of painting, air-brushing, flat-to-glossy finishes, natural environment finishes, soft-shell and hard-shell coatings, sealers, and glassing. These can be from latex, acrylic, urethane, polyurea, epsilon, polyurethane, and many others.
Pricing of Custom Scaled Miniature Models
To determine the cost of each project, we factor in the volume and type of materials, production labor, installation time, and materials. We also calculate the time it takes to create the 3D design and other specific elements unique to the project. Each project requires a custom bid.
Get a Free Cost Estimate for Small Scale Models

Custom Fabrication Workflow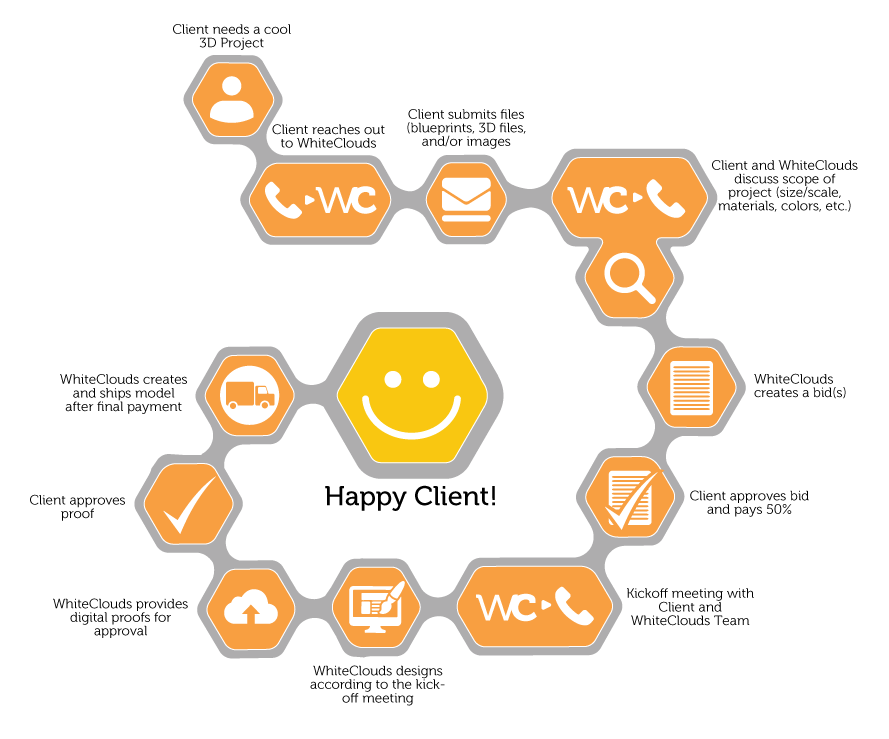 Common Questions & Answers
What is the largest replica model you can make?
There is no limit to the size of product replica model. Transportability will be your only concern on an extremely large product replica model.
Can you use my custom artwork?
Yes. Please send us your file in a vector AI, EPS, or PDF format.
What features can a small scale model have?
Models can be finished with paint or special strength coatings and even airbrushed. They can also be covered with any special look you might want from organic coverings to special materials. For example, adding electronics to a prototype to make it functional or adding lights to create interactivity on a diorama.
What file type is required if I need to incorporate special fabrication into the project?
We work with all architectural CAD programs and modeling programs. Some of the most popular ones we use are AutoCAD, Revit, Chief Architect, ArchiCAD, Maya, 3DS Max Design, ZBrush, and Sketchup. If you design in 3D, we will start with your 3D files. If you have 2D blueprints, artist's sketches (or even napkin drawings), we can build a model from these as well.
Can you match our PMS/Pantone colors?
Yes. We can match your PMS or Pantone.
What kind of proofing process do you go through prior to the creation of my large product replica?

Once the design is created, we send the client a digital proof so we can discuss the project and make preliminary changes to the design.

Structural elements are discussed to ensure the large product replica has the internal and external components needed for strength and durability while on display.

Small scale models or macquettes are sometimes made to show the client what the initial design will look like in 3D form. Questions at this stage might include: Do the colors match your PMS/Pantone colors? Is the model proportionate? At this point, you confirm the design and we begin building your model.
Continuous communication is key so if you've got any questions, we can connect through Facetime or video conferencing to discuss the progress of your project. Some clients even fly in to look at the project first hand during the build stage.

How long will it take to build my miniature model?
This is totally dependent on the size of the project. Typical projects can be completed in four to six weeks while larger projects may take as long as six months. We understand that sometimes deadlines are tight and we may be able to accommodate rush orders in shorter amounts of time.
How are larger models built structurally?
If your model is for outdoor display, it will need to withstand conditions like high winds, climate changes, and children playing on them. When necessary, we build a metal framework into the product replica so it will be strong and durable.
What technology do you use for 3D models?
It can be a number of different technologies, individually or combined. These range from 3D Foam, 3D Printing, CNC Cutting, laser cutting, laser etching, casting, molding, sculpting, painting, airbrushing, laminating, fiberglass, vinyl printing, and woodworking – all meant to produce highly-quality models that fit your exact needs.
What is the material used?
We match the correct material and fabrication process to your requirements in terms of presentation, size, and transportability. We fabricate in our model shop using different types of foam, wood, metal, resins, fiberglass, and acrylics. We can also 3D print in full-color sandstone, UV-cured resin, plastic, rubber-like acrylic, and nylon. Our large product replicas are typically made with EPS foam, but we'll match the material to the product for the best outcome. Need a special facing? The sky is the limit!
How is the completed 3D model or display shipped?
Once your model is complete, we wrap it in foam and ship it in one or more custom-built crates via motor cargo. The crate can also be used to store your model or for transport between trade shows. Models generally arrive within 2 – 7 business days and to accomodate extremely large projects, we ship via oversize carriers.
Do you have a question we didn't answer? Don't hesitate to contact us at 1-385-206-8700 or [email protected]
WhiteClouds has delivered models around the world.
History of Miniature Models
Scale modeling has been a part of the creative process for centuries. For example, archaeologists have found fired-clay models of buildings from as early as 4600 BC. While those early examples were most likely gifts or used to adorn the graces of the deceased, they were a powerful way to represent something grand on a small scale. Architectural models used to illustrate a proposed building date back to the first century AD.
Topographic models can be traced to the Qin Dynasty in China, circa 200 BC. These maps, far different from the volcano models we built in science class, were made of rice, clay, wood, beeswax and wheat paste. Later topographic models used layering sheet materials and, beginning in the 1940s, formed plastic. Unfortunately, the earliest thermoformed plastic models were usually not very accurate.
Miniature models have long been popular among hobbyists and collectors. Dollhouses were popularized in the 16th and 17th centuries as a way to illustrate the wealth of their owners. They were not intended as toys, but rather an illustration of prestige and as a way to show young women how to manage a household. Full working prototypes of locomotives were created in the 1700s while the first scale automotive kits were produced in the 1940s.
Salesman's samples, including some that were working miniatures, were popular from the 1800s through the mid-1940s, used to demonstrate a range of products from farm equipment to typewriters to furnaces.
Today, 3D printing makes customized miniature models accurate, detailed and compelling. These new technologies allow for more portability, durability and can add more texture by using different resins, powders and metals in the production process.