We Build Custom 3D Footwear Models for Prototyping, Trade Shows, & Marketing.
3D Footwear Models Tradition + Technology
From inception to prototype, it has traditionally taken 6 months to a year to develop a shoe model. It is often hard to visualize a 3D object, like a shoe or boot, based on 2D images or computer simulations.& A physical 3D Printed footwear model tells the entire story. Now, with full-color 3D printing and other modern technologies, footwear reviews and product confirmation enable shortened product creation lead times, increased inventory turns due to speed to market capability, and reduced expense since there is less mold and tooling redesign. Shoe manufacturers are beginning to realize measureable benefits when using 3D printing. Footwear models can be made in actual shoe sizes up to extremely giant shoes.
A physical model provides a visual perspective that you can't achieve with digital 3D models or drawings.
A footwear model helps the product manager to envision the final view of the shoe right down to the details associated with shoe laces and stitching details. These extreme details can invoke great design discussions.
Models include full-color options, and can be built as rigid or pliable.
Models can reduce communication problems with the final production company, making it perfectly clear what the final shoe will look like.
Strikingly high-resolution models with multiple options of finishes can allow the models to emulate different environments, even wet-look models to show what the shoes will look like in the rain.
Models can be created fast with next-day service and can be very economical.
Once the 3D model has been completely designed, the file is output to an STL file (a typical 3D Printing file format). Other file formats can also be pulled from 3D design software, such as RomansCAD or other software tools. At this point, the file is 3D Printed on the appropriate printer and materials. There are many technologies that can be used for building footwear models including FDM (Fused Deposition Modeling), CJP (Color Jet Printing), MJP (Multi-Jet Printing), PolyJet, SLA (Stereo Lithography Apparatus), SLS (Selective Laser Sintering) along with many others.
WhiteClouds has the capabilities to design the 3D digital files and then to take these files and 3D print these footwear models.
With 3D printing technology, you aren't limited to straight lines and boxes. A 3D printer can easily print curved shoe walls, shoelaces, and detailed stitching.
We can 3D print models in different materials including PLA, digital plastic, and UV-cured resin. The type of model determines which material will produce the best results. We can help you choose the material that is best for your project.
3D printed footwear models show incredible detail. The resolution of our printers is finer than a human hair.
Footwear models can be 3D printed in full-color (over 750,000 variations of color) for awe-inspiring presentations and displays. No painting required!
Custom 3D Footwear Model Pricing
Cost of footwear models is based on the volume of material (size of the model), the time it takes to create the 3D printable file and other elements of the model.  Each model is bid individually and the best way to determine cost is to email us, call us at 385-206-8700, or fill out the form below and let us bid on your project.
Get a Free Price Estimate of a Custom 3D Footwear Model
Custom Fabrication Workflow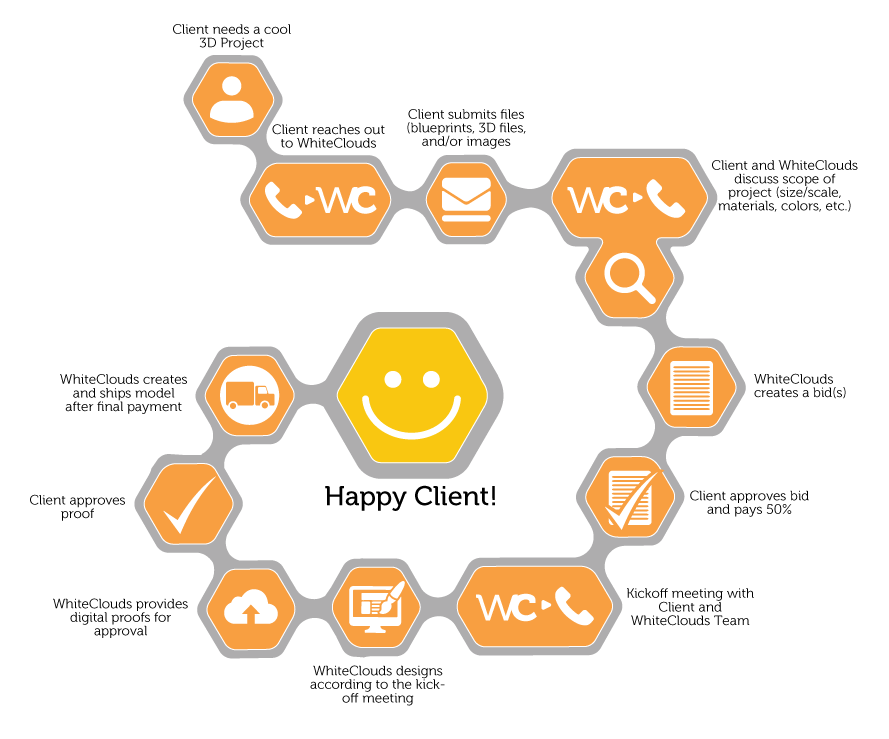 Common Questions & Answers
What file type is required to 3D print a footwear model?
We work with most major CAD and Modeling programs including RomansCAD, Zbrush, and Maya, just to name a few. If you design in 3D, we will start with your 3D files. If you need us to do the 3D Design, we can work from, photographs, artist's sketches, or even napkin drawings.

Do the printers print in color?
Yes. Most of our footwear models are printed in full-color material. As requested, some models are printed in different materials allowing for more flexibility in the model. If you need a rubber-like sole, we can do that.

What is the largest model you can 3D print?
The build envelope on our larger printers is 9″ x 15″ x 20″. This is the largest model we can print in a single piece. We can 3D print larger models in multiple pieces.

Can you build a large-scale shoe model for a trade show?
If you are looking for a large-scale shoe model for a trade show display – no problem – we can build a shoe as large as you would like. These types of trade show models would be built using different fabrication processes (foam, wood, metal, resins, acrylic, etc.), depending on requirements of presentation, size, and transportability. Turnaround time for a large-scale model would typically be four to six weeks. We understand that sometimes deadlines are tight and we can accommodate rush orders in as little as one week.

If I want a second model is it cheaper?
Our pricing is based on the amount of material used and the time it takes to prepare your design. The second model is less money because the design portion is complete.

What is the turnaround time for a 3D-printed footwear model?
This is dependent on a variety of factors specific to the job requirements. To get an accurate assessment, get a custom quote through the form above. We understand that sometimes deadlines are tight and we can accommodate rush orders in shorter amounts of time.
Do you have a question we didn't answer? Don't hesitate to contact us at 1-385-206-8700 or [email protected].
WhiteClouds has delivered models around the world.
History of 3D Printed Footwear
3D Printing of footwear has been most visible in athletic shoe development.  Here is a chronological look at some of the major manufacturers and their athletic 3D printed shoe projects:
March 2016: Under Armor 3D Printing – Architect
• 3D Printed heel Midsoles
• Technology: Selective Laser Sintering
• $300
• Limited Edition – 96 Pairs
• Production Video
Footwear Designers using 3D Printing Technologies
Various designers have used 3D Printing technologies to develop very unique fashions for the footwear industry.