We Build Custom 3D Courtroom replicas, displays, and models of weapons, body parts, wounds, crime scenes, footprint impressions, vehicular collisions and more.
Courtroom Exhibits + Technology
Courtroom exhibits are used in a trial-by-jury when an object, testimony, or any fact needs demonstration to support an argument. It is crucial to get jurors to understand the details of a case so that a well-informed and unbiased decision can develop. A well-presented three-dimensional courtroom exhibit can often improve a juror's comprehension of the facts better than a two-dimensional image alone.
With ever-increasing advances in technology, the possibilities are endless for exhibits used as demonstrative evidence in a courtroom. WhiteClouds can make precise replicas of weapons, body parts, wounds, crime scenes, footprint impressions, vehicular collisions and more. We do this by coupling crime scene images, photogrammetry, CT scans, MRIs, virtopsy and structured-light scanning with 3D printing technologies.
Technology has transformed the courtroom and presentations made by attorneys have evolved along with that technology. Fully operational, and easily held and examined-at-all-angles, these three-dimensional courtroom exhibits provide something tangible where a two-dimensional image cannot.
WhiteClouds' courtroom exhibits add value to your case.
Practical Advantages of 3D Courtroom Exhibits
There is potential for less bias and emotional response.
The data incorporated into a courtroom exhibit retains its integrity.
Courtroom and trial exhibit models help to illustrate a narrative.
Two-dimensional imagery is more effective when presented three-dimensionally.
Modern technology allows for the creation of true-to-life courtroom exhibits.
Evidence that would otherwise deteriorate over time is preserved. Fabrication is quick, reliable, and effective.
Unbiased Courtroom Exhibits
Unsettling pictures, shown as exhibits of the injured or deceased, tend to arouse an emotional response in a courtroom and spark prejudice in jurors. Once a jury becomes biased, they can no longer objectively see the evidence. For instance, an image of a child with a screwdriver stabbing into her eye is shudder-inducing, but the creation of an exact anatomical replica removes a lot of that shock.
The model shows all relevant case information and arouses less emotion than a photo. A medical model can be held and rotated for a complete view of the wound and the size of the skull truthfully represents the child's age. These courtroom exhibits grant an unbiased opinion by sterilizing shocking evidence.
Forensic Courtroom Exhibits
Those not trained in the medical field may not easily understand the data presented in medical imaging. A postmortem scan shows numerous fractures in the skull of a 60-year-old man who was stomped to death by his son. The use of 3D printing helped provide a clear visual representation of the complex medical imagery and the jury's understanding.
Narrative Illustration Courtroom Exhibits
In 2013, WhiteClouds created a courtroom exhibit of the residence of a man who shot and killed a burglar who entered his home. The home was precisely replicated and complete with exact furniture placement and the relevant surrounding topography. The defense attorney for the case commissioned the exhibit to successfully illustrate his client's testimony in the courtroom. The court determined that the homeowner acted in self-defense and that the shooting was a justified use of force.
Investigative Courtroom Exhibits
Courtroom exhibits made to demonstrate and compare will add clarity to the facts of your case. In this instance, a client requested a 1:1 scale courtroom exhibit of a railroad crossing. We built a composite sculpture to illustrate how a vehicle tire can get stuck in a railroad crossing that does not have the necessary safety elements in place. The client provided a digital scan of the railroad portion in question and we were able to replicate it accurately.
Malpractice Visualization Courtroom Exhibits
Malpractice suits are typically difficult to understand because of the medical jargon and body scans used as evidence. A courtroom exhibit effectively visualizes how surgery may have gone wrong or how a misdiagnosis caused harm to a patient. These medical courtroom exhibits are accurate because they are made directly from the data collected from diagnostic tests.
A high-resolution CT or MRI scan provides internal images of a person and when broken down, these images, layer-by-layer, create a precise anatomical replica. Replicas of abnormalities such as tumors, fractures, cysts, and the like have staggering accuracy. WhiteClouds, approached by prosecuting and defense attorneys alike, creates true-to-life medical exhibits for use in the courtroom.
An attorney approached WhiteClouds to create a courtroom exhibit highlighting an area of his client's spine. The client had undergone a surgery where the surgeon improperly attached hardware to his cervical spine. The surgical mistake caused the medical device to dig into the man's esophagus. A trained medical professional could see the resulting damage in the medical imagery, but it was difficult for the attorney to get the jury to understand what the experts could. The true-to-life exhibit, created by WhiteClouds, brought a more in-depth understanding to the courtroom.
Another malpractice case involved a man with a mass in his brain. The man suffered an intense seizure and became afflicted by multiple other debilitating health issues. Several years before his health issues escalated, the man had visited his doctor with headache complaints. The doctor ran a diagnostic scan and found a small mass in his brain. The professional advice of the doctor was that the abnormality was not a cause for concern. When the man had the seizure, that mass had doubled in size. The attorney effectively presented the case with comparison models, one of the mass when it was small and another of the mass when it doubled in size.
With high-resolution medical scans, skilled designers and 3D modeling software, WhiteClouds creates effective courtroom exhibits that demonstrate what is otherwise difficult to visualize.
One of WhiteClouds' clients was so impressed with the value of our courtroom exhibits that he filmed a video presentation. In this video he overviews the benefits these exhibits bring to the courtroom.
We can help you choose a 3D print material that best suits the needs of your courtroom exhibits.
Our Creality FDM print farm boasts 55 printers and is always running.
We have an in-house sculpture team that works closely with our 3D design team to produce true-to-life replicas.
Our innovative foam sculpture team utilizes technologies such as CNC routing, hot wires and knives, and traditional subtractive sculpting.
Our in-house paint-booth and paint professionals know what works best to give your project a quality finish.
We have an experienced design team with special focus in medical imagery and architectural renderings.
Get a Free Price Estimate for a Custom Courtroom Model
Custom Fabrication Workflow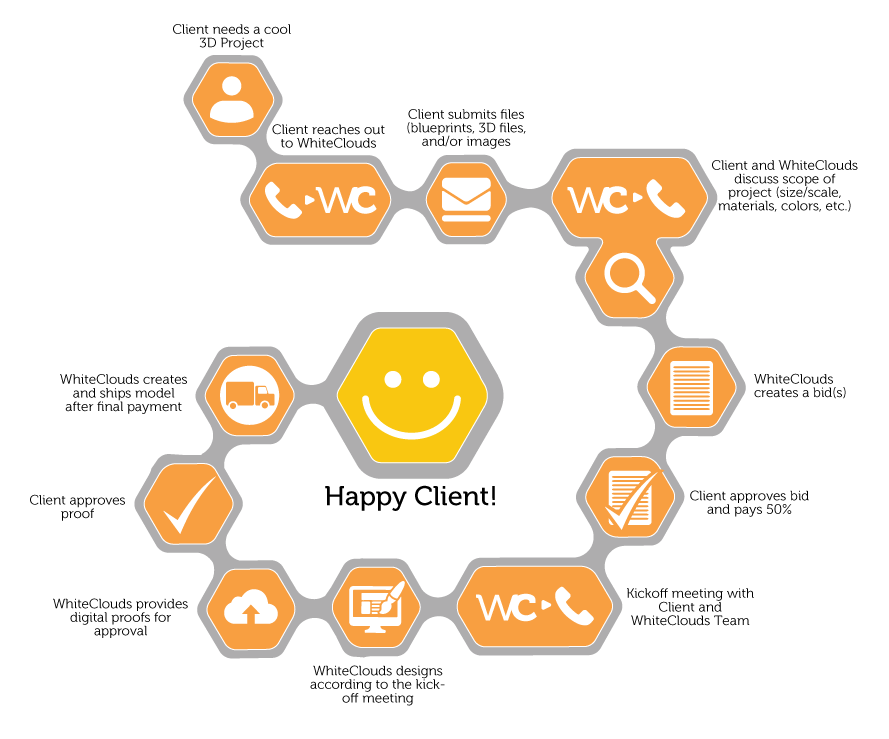 Common Questions & Answers
Can I send WhiteClouds a file to help with my project?
Yes! We use the data and files that you provide to create accurate courtroom exhibits. When you call, we will further discuss what file types are best for your project.

Are your courtroom exhibits durable?
We have a variety of materials at our disposal. If you need something that can withstand, say, a truck rolling over it, let us know. We want to turn your vision into reality.

How long does it take to make one of these exhibits?
We understand that the courts set the dates that determine when you need your completed project and will work with you to ensure that your exhibit isn't late.

What can I expect to pay for a custom courtroom exhibit?
Pricing is dependent upon the detail and size of your exhibit. If you are looking to add value to your case, please give us a call and let us know what you are looking for. Many of our customers are surprised with just how affordable a custom exhibit can be!
Do you have a question we didn't answer? Don't hesitate to contact us at 1-385-206-8700 or [email protected].
WhiteClouds has delivered models around the world.