Custom Metal Statue Production
We make large faux metallic and bronze custom statues
Faux Bronze & Metal 3D Statues + Technology
Bronze statues have been around for thousands of years due to its rich coloring and the ability for artists to achieve fine details.  While bronze and other metals remains a popular choice for sculpture, with modern technologies like 3D printing or EPS foam, hardcoat materials and metallic paints, we can achieve the same results at a fraction of the cost in production time, weight and cost. 
WhiteClouds has produced custom faux metal and bronze statues for museums, mascots for colleges and high schools, statues for retail store displays and special events, and even movie props.
Here are some of our faux metal projects
How are Faux Bronze Statues Made
We start with your design file, or simply 2D illustrations and pictures of what you'd like. If you don't have a 3D digital file, our expert 3D designers can make the digital model for you, as was the case with our King and Queen of Kauai statues pictured below. The size and where it will be displayed determine what materials are used. Typically, we build 3D statues with expanded polystyrene (EPS) foam or 3D printing with a plastic filament and a metal 'skeleton' internal structure . Our fabrication team brings it all together with bonding, sanding and priming to prepare it for painting in our in-house paint shop.
Optionally, you could request a miniature maquette to be 3D-printed and shipped for final approval before the real life-size sculpture is started.
For most of our 3D statues, our production artisans choose 3D-printing technology to produce the foundation of the statue. With 3D-printing, we can achieve perfect accuracy and the after the digital file is created, the printers do all the work. A large sculpture is broken down into smaller pieces which are 3D-printed in ultra-fine layers of plastic, then bonded together and assembled around an internal metal structure and filled with foam for support. Sometimes, one sculpture could have over a hundred separate pieces. Size is not a problem. Our largest 3D-printed statue to date was 30 feet high.
If the statue is to be permanently displayed outside, it usually needs to withstand the sometimes harsh elements such as; temperature, humidity, wind, sun, and rain. In other cases, the statue may need to withstand the harshest conditions of all; children. For these instances, our team applies a special hardcoat called Polyurea ULXT66. Polyurea ULXT66 is a chemically-developed polymer coating stronger than most commonly used outdoor protective coatings. Due to the protective effect of Polyurea, the coating has a slightly bumpy texture (like an orange peel) that can be made rougher or smoother according to the desired finish. In the case of our bronze statues, this slight texture actually makes it look more like authentic metal. If the statue is to be displayed indoors and you prefer a smooth finish, we might use fiberglass before priming sanding and priming.
Finally, the statue is airbrushed with a bronze or metallic paint satin finish then clear coated for extra protection. At the base, most large statues are welded to a steel plate with bolts according to your specifications so it can be installed on-site or we can create custom bases from wood, metal, lighting, etc. as we did in the Bearcat mascot statue for Sherman High School pictured below.
Get a Free Price Estimate for a Custom 3D Statue
Custom Fabrication Workflow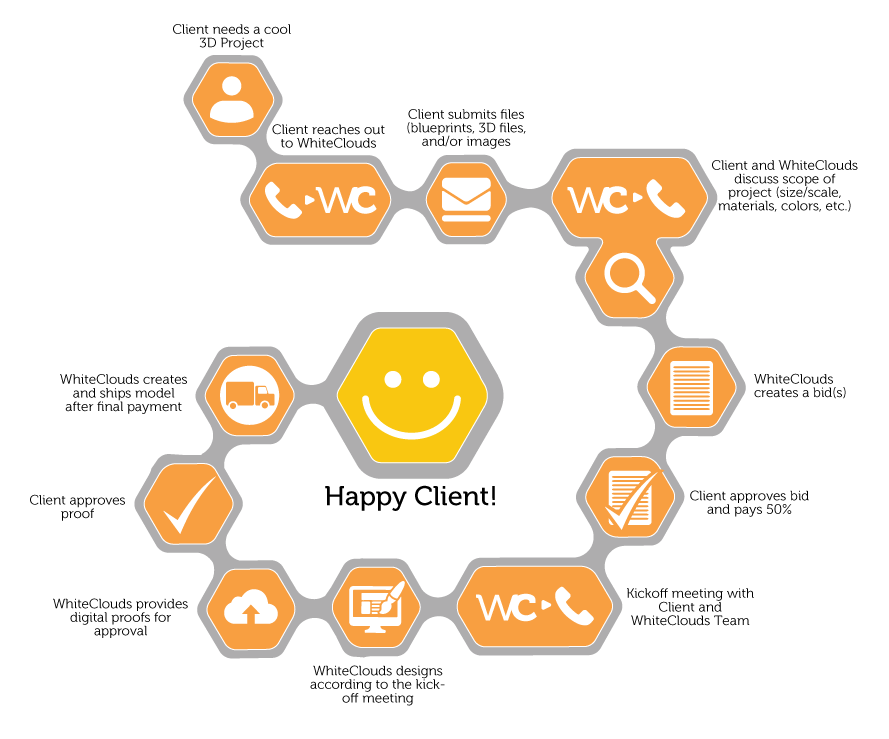 Common Questions & Answers
What file type is required to make a 3D model?
We work with all architectural CAD programs including AutoCAD, Revit, Chief Architect, ArchiCAD, Maya, 3DS Max Design, Zbrush, and Sketchup, just to name a few. If you design in 3D, we will start with your 3D files. If you have 2D sketches or illustrations or a 3D miniature model, we can build a digital model from these as well. If all you have is an idea or a napkin drawing, we can start with that.

What is the material used to create my 3D statue?
We match the correct material and fabrication process to your requirements in terms of presentation, strength, size, and transportability. We fabricate in our model shop using different types of foam, wood, metal, resins, and acrylics. Our 3D statues are typically made with EPS foam, 3D printing technology, or composites.

What is the largest model you can 3D print?
There is no limit to the size of the model we can 3D print. We have 3D-printed a statue of 30 feet tall. Transportability and installation may become the largest issues on an extremely large 3D statue, but those challenges can all be resolved.

How long will it take to build my 3D statue?
Typically, statues can be completed in six to eight weeks but it depends on the size of your model and our current work queue. Fill out a bid request or call 1-385-206-8700 for a specific estimate.

What finishes are available for 3D statues?
We have many different finishes available including bronze-like, metalllic, matte, high-gloss, textured, etc. and different hardcoats depending on your needs.

If I want a second statue, is it cheaper?
Our pricing is based on the fabrication costs and the time it takes to prepare your design. If it's the same design, the second statue is less money because the design portion is complete.
Do you have a question we didn't answer? Don't hesitate to contact us at 1-385-206-8700 or [email protected].
History of Bronze Statues
Bronze is an alloy of copper and tin, made by heating the metals together and allowing them to cool. Bronze has been an ideal medium for sculpture for thousands of years because of its versatility, coloring and the ability to achieve fine details. It is also favored over other metals because in the casting process, it's possible to achieve both detail and consistency and in some cases, the mould can be reused. Some of the first known sculptures were completed in bronze. While bronze sculpture has some benefits, it requires a highly skilled, labor intensive process, it's extremely heavy which adds to shipping costs, and often takes several months to produce.
Traditional bronze sculpture is made through a process known as casting. Molten metal is poured into a mould and it's left to solidify. If the bronze sculpture was cast in several pieces, it also needs to be welded together and 'chased' in order to achieve smoothness. Chasing is when the metal is worked from the front by hammering with various tools that raise, depress, or push aside the metal without removing any from the surface. 
Bronze sculpture can be cast using a number of different techniques. The method of using the 'lost-wax' technique to make a series of molds, then pouring melted bronze into the final mold to create the sculpture has been around since 4500 BCE. It is still a favored method of casting, even today. 
After the casting and chasing is finished, the bronze is then patinated or gilded or silvered to achieve different colors and tones.