We build Custom 3D Diorama Models
3D Diorama Models + Technology
Dioramas are models that have been created to replicate a scene in 3D (three-dimensionally). Dioramas cover the gamut in size. They can be miniatures, showcasing a re-enactment of a war scene or they can be life size, replicating animals in a particular natural setting. Ever wonder how these high-end dioramas are built? Dioramas are built from skilled artisans and fabricators using their talents to produce these unique pieces of art. In conjunction with the human element, there are multiple technologies and manufacturing techniques used. These can range from casting to taxidermy to 3D Printing and can include special lighting, sound, electronics, digital controls, and even augmented reality.
Dioramas captivate audiences. Individuals are mesmerized by the sheer magnitude of the scene. These beautiful works of art (combined with science) are typically the centerpiece wherever they are located. They are natural magnets attracting visitors to observe and experience the intricate details of the diorama model. These phenomenal details showcase the original designers' dreams in bringing the scene to life.
Here are some specific types of diorama models that WhiteClouds has done.
Gallery of 12' University Architectural Diorama
Gallery of 18' Museum Heritage Site Diorama
Architectural Dioramas
The details of architectural dioramas are nothing short of phenomenal. The scaled-down view of buildings and landscaping, whether from a city block or an entire city are mind-captivating. These dioramas can be used to showcase future vision, visualize development and project impacts, view shapes of buildings and topography, plan traffic flow, and many other uses. All types of functional architectural dioramas can be built including large city layouts, airports, railroad stations, hospitals, and university campuses. Topographical dioramas can also be used to feature specific geographical areas for development projects above ground and mining and drilling projects below ground. More information about these architectural displays can be found at Architectural Dioramas, Architectural Models and Topographical Models.

We have the technology and skills to deliver professional dioramas within your timeframe and budget. An architectural diorama can be as small as 12″x12″ or as large as 20'x20′ or larger and can be built to emphasize both daylight and night-time views. Pricing can vary from a few thousand to hundreds of thousands depending on size and complexity.
Entertainment Dioramas
Immerse yourself into a three-dimensional world of fun and fiction. Whether imagining your favorite movie scene, video game set, or a futuristic fantasy land — these can all be accomplished with highly detailed entertainment dioramas. Design elements that encompass music, special lighting, rivers and mountains, futuristic scenes, old castles, medieval scenes, or hundreds of warriors battling away — these can all be built into the diorama.

Whether for trade shows, museums, theme parks and attractions, retail stores, office complex's, lobby displays, or special events; entertainment dioramas can bring out the "kid" in all of us. Entertainment dioramas provide a realistic awe-inspiring physical model of the original design. Themed entertainment dioramas are becoming more and more in demand and are only limited by imagination.

The video below highlights an entertainment diorama built from the video game "DOTA 2". It converts the games map layout from a digital 2D to a physical 3D version of the game. The detail is unbelievable. All map elements are manufactured with advanced 3D printing technologies, to ensure maximum precision and detail. There are 381 individually designed elements from the game using 39 different vivid colors. Every element has been painstakingly designed to match the in-game model. The video showcases the Ancients, barracks and towers in each base down to the forgotten bones of old enemies strewn along the side of a forest path. Lighting is designed to highlight the lava flows, crystals, bases and other dynamic elements.

Turn up the sound, hit play, and enjoy the ride through DOTA 2.
An entertainment diorama can be as small as a 2'x2′ or as large as 50'x50′ or larger and can be built with internal or external enhancements and props to gain a full experience. Pricing can vary from a few thousand to hundreds of thousands depending on size and complexity.
More information about these entertainment displays can be found at Entertainment Dioramas and DOTA 2 Game Dioramas.
Museums and educational institutions use dioramas as educational tools to dramatically impact the appeal to viewers through 3D representations of scenes. These special exhibits can depict science, space, natural history scenes, animals, environments, wildlife aquariums, special exhibits, and historical events. From the American Museum of Natural History to museums at Pearl Harbor to depictions of nature, these museums all have something in common — bringing to life the replication and realism of the scene. While some think of museum dioramas as taxidermy recreations of animals and fishes, others think of re-enactments of battlefields and warfare on the seas to retain historical details for future generations.
A museum diorama can be as small as 5'x5′ or as large as 30'x30′ or larger. Pricing can vary from tens of thousands to hundreds of thousands or in some cases millions, depending on size and complexity.
More information about these museum displays can be found at Museum Dioramas.
Technology and Materials for 3D Dioramas
Today's technologies are making more impressive next generation dioramas. Combining tried-and-tested traditional model-making with new 3D printing, 3D CNCing, 3D cutting, 3D digital, and new electronics capabilities are allowing model makers to build some really awesome dioramas.
Professional Creations — We have a team of designers, artists, model-makers, painters, air-brushers, electricians, sculptors, carpenters, taxidermists, and welders to fabricate that imaginative, immersive, and experiential 3D diorama model.
No project is too large or too small, from a 2′ small diorama topography to a large 50′ museum diorama. If you can design it, we can create a physical diorama of it. If you can't design it, we have a team of design professionals who can. We can work with preparing 3D dioramas from scans, drawings, photos, and even napkins.
Technologies include Foam Fabrication, Hot Wiring, CNC Cutting, Laser Cutting, Welding, and 6 different 3D printing technologies for rapid prototyping or production models.
Architectural Dioramas, Architectural Models, Topographical Models, Entertainment Dioramas, Game Dioramas, and Museum Dioramas can all be used to help expand what you are trying to build into a diorama.
Did we mention, we have 60,000 square feet of production facilities in Utah, including the largest capacity of full-color 3D printing in the world.
Pricing of Custom 3D Diorama Models
The price of a diorama model varies greatly because of size and complexity and can range from a few thousand dollars to a few hundred thousand dollars with some even in the millions. Each diorama model is bid individually and the best way to determine cost is to email us, call us at 385-206-8700, or fill out the form below and let us bid on your project.
Get a Free Price Estimate for Custom Diorama Models
Custom Fabrication Workflow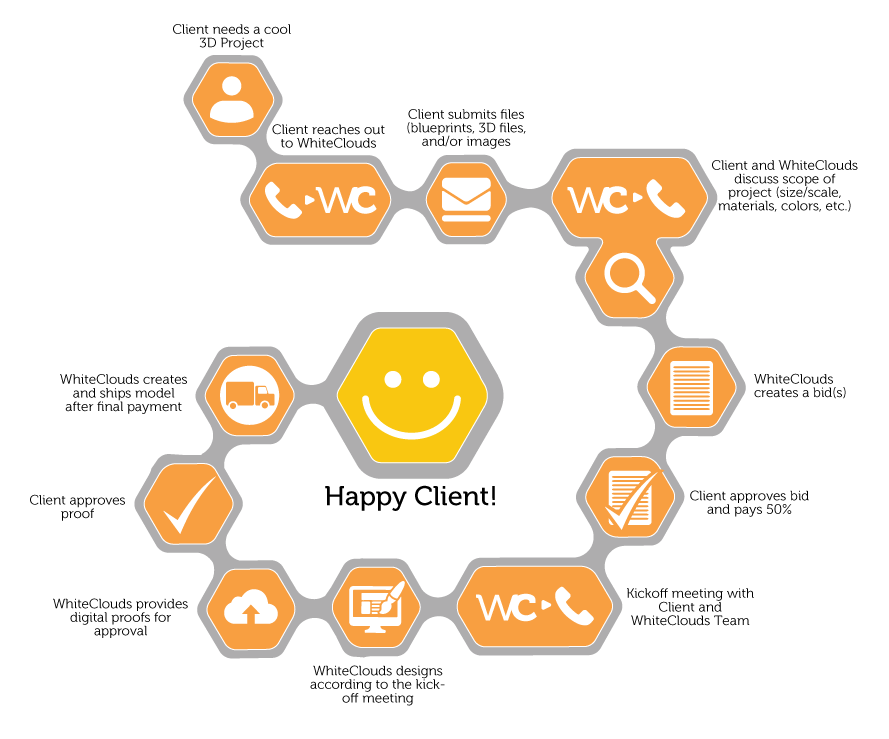 Common Questions & Answers
What file type is required to 3D print parts of the diorama?
We work with all architectural CAD programs including AutoCAD, Revit, Chief Architect, ArchiCAD and Sketchup, just to name a few. If you design in 3D, we will start with your 3D files. If you have 2D blueprints and elevations, or artist's sketches, we can build a diorama from these files as well.

Do the 3D printers print in color?
Yes. Our printers print in full color. Anything printed in UV-cured resin materials are a single color but can be painted.

What is the material used?
We print in UV-cured resins. We also use traditional hand modeling techniques for large topographies and landscapes as well as for large architectural models.

What is the largest diorama you can 3D print?
The build envelope on our larger printers is 9″ x 15″ x 20″. This is the largest diorama model we can print in a single piece. We can 3D print larger models in multiple pieces which is a normal part of the process.

What is the turnaround time for a diorama model?
Depending on size and complexity, this could be from 4-6 weeks for a small diorama to many months for larger dioramas. We understand that sometimes deadlines are tight and we can usually accommodate rush orders.

Can you 3D print the interior details of a building?
Yes. We can create a diorama model with a removable roof and floors so you can see the layout of the building.

Can you 3D print terrain, swimming pools, arbors, hardscaping features, etc.?
Yes. We 3D print many of the items in our diorama models.

If I want a second diorama is it cheaper?
Our pricing is based on the amount of material used, size of the project, and time it takes to build the diorama. A second duplicate is less money because the design portion is complete.
WhiteClouds has delivered models around the world.
How are Dioramas Created?
There are a lot of questions focused on the details of every Diorama model we build. There are intricacies that make all of the difference in the world as to the quality of the finished product. Let's talk about 3 different projects and the details associated with the project. 
Completed Project — A historical event diorama of the USS-Arizona as it sits today at the bottom of Pearl Harbor.
December 7, 1941 is a day that we will always remember — the attack on Pearl Harbor. A joint project with the National Park Service, Autodesk, and WhiteClouds allowed the creation of a new experience for visitors to Pearl Harbor — an extremely accurate diorama model of exactly how the USS Arizona looks today, along with artifacts resting on the ship.
The wreckage of the USS Arizona still contains approximately 500,000 gallons of oil that are still slowly seeping out of the ship's submerged wreckage. Almost 80 years after its demise, the Arizona continues to spill up to 9 quarts of oil into the harbor each day. The National Park Service wanted to determine the condition of the hull with concerns for a massive rupture that would result in environmental damage. The USS Arizona is the grave site of the remaining 948 sailors who perished on December 7 — 229 bodies were recovered from the total 1,177 serving at the time.
A combination of laser scanning (capturing digital information about the shape of the ship by measuring distance between the scanner and ship), subsea LiDAR (light from a laser to trace the outline of the ship), SONAR (emitted sound pulses measuring their return after being reflected), and photogrammetry (creating 3D models from 2D photographs), and 3D Printing (creating a finished object adding material layer by layer) were used to build this exact diorama model. These technologies (image above) were used to assess the ship's condition without the sailors' remains being disturbed. With all of these digital technologies, it took over two years to produce the final digital model.
This 6′ ship diorama had over 2 Million polygons that had to be painstakingly colorized from the black and white digital model and took months to complete. An iconic Coke bottle and cooking pot were also replicated (including barnacles) as they sat on the bow of the ship
This joint project allows visitors to experience the ship and its artifacts through 3D Printed diorama models.
Completed Project — An architectural campus diorama of Brigham Young University
Brigham Young University (BYU) is located in Provo, Utah, next to the Wasatch mountains. WhiteClouds was commissioned to build an architectural diorama (10'x12′) showcasing the beauty and geography of the campus with a special emphasis on the huge variety of trees and their historical significance.
Using advanced technology, we pre-programmed multiple iPads to control the LEDs for each building. Matching cabinetry and glass walls finish off the aesthetics of the architectural diorama. To enrich its effectiveness, we used augmented reality on mobile devices to combine the digital and physical diorama features. Traditional model-making processes along with various 3d printing technologies were used to emphasize the realism of the stone-looking buildings. (The final diorama includes all 88 buildings). Roads, sidewalks, and parking lots were 3D printed with a sandstone-type finish. For statues needing extreme details, high-definition 3D Printers printed details as small as 16 microns (about 1/6 the size of a human hair). Design and fabrication of the architectural diorama took approximately 6 months. To see a complete overview of the BYU project, click here.
The initial phase of the project was to build a small section of the campus (two images below), highlighting pathways and landscaping around the Karl G. Maeser building. This was used to successfully attract donors for the funding of the project.
Completed Project — A museum diorama of the Erie Canal Locks System
WhiteClouds was commissioned to create a museum diorama to demonstrate the lock systems on the Erie Canal. A lock is a method for raising and lowering water levels to allow ships to navigate waterways. The completed diorama features Hugh White's Saw Mill and an old-fashioned homestead near lock 38 in Cohoes Falls, Albany County, NY as it may have looked in 1835. The simple way of life is depicted in the layout, the vegetation and even the mule and farmer towing the barge up the canal. The design of this project took approximately 30 hours and the fabrication was completed a short time later.
The present Erie Canal rises 566 feet from the Hudson River to Lake Erie through 35 locks. From tide-water level at Troy, the Erie Canal rises through a series of locks in the Mohawk Valley to an elevation of 420 feet above sea-level at the summit level at Rome. Continuing westward, it descends to an elevation of 363 feet above sea-level at the junction with the Oswego Canal, and finally rises to an elevation of 565.6 feet above sea-level at the Niagara River. The original "Clinton's Ditch" Erie Canal had 83 locks. The Enlarged Erie Canal, built between 1835 and 1862, saw this number reduced to 72 locks. Today, there are 35 numbered locks — although Lock No. 1 is usually called the Federal Lock -— plus the Federal Black Rock Lock.
Once a WhiteClouds project begins, the first order of business is a kickoff meeting to review all of the deliverables, to work through the project timelines, change order processes, and clarify communications methodology between WhiteClouds and the customer. Historical documents, images, articles, are all helpful in fabricating a diorama. WhiteClouds wants the customer to be ecstatic when they receive their museum diorama and any documentation that can be supplied early on in the process has a huge impact to the success of the project.
The finished museum diorama is 86″ and was created in full-color. The diorama includes the Erie Canal, dikes, locks, water features, one man, a tow mule, saw mill, homestead and a barge. The diorama has full landscaping, topography, roads and trails around the canal reflective of the early 1800s.