We build Custom 3D Cartoon Models
3D Cartoon Models + Technology
Young and old alike have a favorite cartoon character from Saturday morning cartoons they've grown up watching. It's quite an experience to see our favorite cartoon character standing above the crowds. Imagine a booth magnet (cool displays in trade show booths) with a 10-foot-tall model of Sponge Bob, Garfield, or Homer Simpson. People will enjoy seeing their favorite cartoon characters up close and personal. Opportunities for photos will be endless, leading to greater traffic on social media as visitors post their "celebrity sighting" of favorite cartoon characters. 
The classic cartoons of years gone by have inspired the development of newer cartoon characters that may require more marketing and branding efforts. Having larger-than-life 3D cartoon characters from popular shows such as Rick and Morty, Adventure Time, Gravity Falls, or The Avengers (to name a few) could make a significant impression at that next trade show or event. Every cartoon has a significant following, and many people would jump at the chance to greet their favorite character! These colossal sculptures can help viewers re-live their favorite scenes, arousing nostalgia as they recall fond memories of their favorite cartoons. We are dedicated to bringing your imagination to life!
Today's technologies are making more impressive next generation models. Combining tried-and-tested technologies of foam sculpting and cutting, along with new 3D printing capabilities and new electronics are allowing model makers to build some pretty awesome foam character models, thrones and selfie backgrounds for taking awesome selfies, and cartoon models.
Features & Benefits of 3D Cartoon Models
Professional Creations — We have a team of designers, artists, model makers, painters, airbrush painters, sculptors, carpenters, and welders to fabricate that imaginative, immersive, and experiential 3D Printed sculpture.
No project is too large or too small, from a 2′ small character to a large 20′ tall behemoth. If you can design it, we can create a physical model of it. If you can't design it, we have a team of design professionals who can. We can work with preparing 3D models from scans, drawings, photos, and even napkins.
Details can be as small as 16 microns (via 3D printing) – that is as small as 1/6th the size of a human hair.
Portability and/or mobility may be an issue, especially with larger trade show displays. We have the team that can create your 3d cartoon model including custom electronics, lighting, and sound.
Technology and Materials for Cartoon Models
Today's technologies are making phenomenal next-generation models. Model makers combine proven skills of foam cutting and sculpting with ever-evolving 3D printing capabilities, 3D CNC cutting, 3D cutting, 3D digital, and new electronics to create some incredible 3D cartoon models, foam characters, character models and thrones for taking the super popular selfie.
Technologies include Foam Fabrication, Hot Wiring, CNC Cutting, Laser Cutting, Welding, and 6 different 3D printing technologies for rapid prototyping or production models.
Foam themed models, foam letters, foam architectural models, foam props, and foam sculptures can all be used to help expand what you are trying to build with foam fabrication.
Foam sculpting may use other techniques including epoxy clay sculpting, molds, and 3D printing to develop the best sculpture.
Did we mention, we have 60,000 square feet of production facilities in Utah, including the largest capacity of full-color 3D printing in the world.
Our in-house spray booth gives us flexibility in different types and grades of paint and finishing capabilities. Some finishes include latex, acrylic, urethane, polyurea, epsilon, polyurethane, and many others.
Pricing of Custom 3D Cartoon Models

The cost of a 3D cartoon model is based on the volume of material (size of the sculpture), the time it takes to create the 3D printable file or CNC file, and other elements of the sculpture. Each 3D cartoon model is bid individually and the best way to determine cost is to email us, call us at 385-206-8700, or fill out the form below and let us bid on your project.
Get a Free Price Estimate for 3D Cartoon Models
Related 3D Cartoon Model Galleries
Custom Fabrication Workflow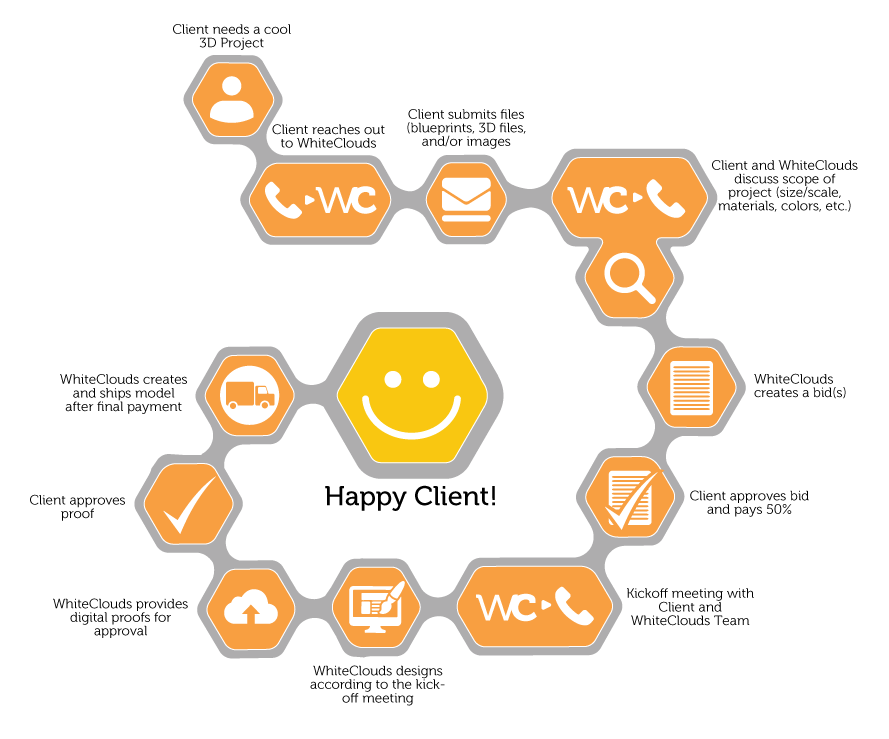 Common Questions & Answers
What file type is required to make a 3D cartoon model?
If you design in 3D, we will start with your 3D files. We work with all major 3D file formats. When in doubt, an obj. file works best. If all you have is 2D imagery or artist's sketches, we can build a 3D cartoon model from those as well. If all you have is an idea or a napkin drawing, we can start with that.
What technology do you use for 3D cartoon models?
It can be a number of different technologies, individually or combined. These range from 3D Foam, 3D printing, CNC Cutting, laser cutting, laser etching, casting, molding, sculpting, painting, airbrushing, laminating, vinyl printing, and woodworking – all meant to produce highly engaging models that fit your exact needs.
What is the material used?
We match the correct material and fabrication process to your requirements in terms of presentation, size, and transportability. In our model shop, we fabricate using different types of foam, wood, metal, resins, and acrylics. We can also 3D print in UV-cured resin, plastic, rubber-like, acrylic, and nylon.
What is the largest 3D cartoon model you can make?
There is no limit to the size of model. Transportability will be your only concern on an extremely large 3D cartoon model. Here is a case study on building a 7 foot tall Master Chief.
What is the turnaround time for a 3D cartoon model?
This depends on the features of the model itself as well as the scale of the model. We usually ask for six to eight weeks from the time we take the order to when you will receive the model. large projects can be four to six months or longer. We understand that sometimes deadlines are tight and we can accommodate rush orders.
What features can a 3D cartoon model have?
Besides the physical 3D cartoon model with the proper color and appearance, you can elect to ask for special lighting, sound, and movement. We always ask to the level of detail, realism, and finish as part of our onboarding process.
If I want a second cartoon model is it cheaper?
Our pricing is based on the fabrication costs and the time it takes to prepare your design. The second model is less in pricing because the design portion is complete.
Do you have a question we didn't answer? Don't hesitate to contact us at 1-385-206-8700 or [email protected].
WhiteClouds has delivered models around the world.
Steps in Creating a 3D Cartoon Model
There are many steps in creating a high-quality cartoon model and each model is different. We will cover four general steps at a very high-level.
Choosing the correct fabrication medium: Most of our cartoon models are created using foam or 3D printing or a combination of both. When working with foam, we typically use polystyrene foam, specifically EPS or expanded polystyrene foam. Polystyrene foam comes in common densities ranging from 1 lb. to 3 lb. 2 lb. density works really well for the best compromise in affordability (lower density is cheapest), ease of use (lower density is easier to cut and manipulate), and durability (higher density allows you to carve finer details). When working with 3D printing, we typically use PLA filament to keep the costs down. If we need extreme detail, we will use UV-cured resins.
If we use foam: Most sculptors draw a grid system on the foam before starting the sculpting process. This grid system can be done a number of different ways — free-hand drawing, using a maquette (scale model) as a guide, printing scaled up gridlines from a 3D design and applying them to the foam, or projecting a lighted image from a 3D design of a model onto the foam and then tracing the model. Once you are ready to begin sculpting, the polystyrene foam can be cut with a heated wire (except cutting through glued pieces), cut with a band saw, carved on a CNC Cutter, or can be sculpted with larger electric chain saws for the heavy cutting. Then you can do finer sculpting and sanding with the use of many different types of small hand tools such as "Dremel" tools, die grinders, electric knives, handsaws, snap-blade knives, rasps, surforms, and many others.
Applying texture to the model: You can glue smaller pieces of foam (that were easier to duplicate or carve as a stand-alone) or 3D Printed objects onto the existing model. You can also add acrylic monomer, for example, to emulate wrinkled skin. Another option is using epoxy clay which allows you to add/carve extreme detail into a foam model that would have been very difficult directly carving into foam.
Finish work: There are a lot of methods to finish off the project depending on a number of factors related to project requirements, such as final durability, weather-proofing, temperature, mobility, strength, and flexibility. Typically, you need to seal the surface and apply protective coatings. These finishes may be combinations of painting, air-brushing, flat-to-glossy finishes, natural environment finishes, soft-shell, and hard-shell coatings, sealers, and glassing. These can be from latex, acrylic, urethane, polyurea, epsilon, styrospray, polyurethane, and many others.

This history of animation began as early as 3,000 B.C. with pottery bowls depicting goats leaping. Skip ahead a few thousand years to 1500 A.D. and we see the familiar Vitruvian Man by Leonardo da Vinci. This drawing implies movement through different angles.
During the Industrial Revolution (1600 — 1877) in Europe and North America, experimentation of what machines could do led to the inventions of the Magic Lantern, the Zoetrope, and the Praxinoscope.
Magic Lantern — an image projector that uses pictures on sheets of glass. Some sheets contained moving parts, so it was considered the first example of projected animation.
Zoetrope — a pre-film device that produces the illusion of motion by displaying a sequence of drawings or photographs showing progressive phases of motion.
Praxinoscope — improved on the zoetrope by replacing its narrow viewing slits with an inner circle of mirrors, placed so that the reflections of the pictures appeared more or less stationary in position as the wheel turned.
1900-1930 was known as The Silent Era. Cartoons and animated short films like Gertie the Dinosaur, Felix the Cat and Steamboat Willie were introduced to audiences in the United States and France.
The 1930s — 1950s were considered to be the "Golden Age" of animation. Walt Disney, Warner Brothers, MGM and Fleischer created theatrical cartoons that became a fundamental part of popular culture. Cartoon characters like Donald Duck, Snow White, Bugs Bunny, Elmer Fudd, Betty Boop and Popeye joined the animation family.
During the three decades of the American television era (1960-1980s), the Flintstones, Yogi Bear, the Pink Panther and Scooby-Doo made their debuts in the 1960s. Animation studios created more cartoons for TV.
With the evolution of modern technology, traditional animation is combined with 2D computer drawing and 3D modeling, and computer-generated imagery (CGI) is born. The Simpson's has the honor of being the longest running American animated program.
Cartoons and animation have evolved over the years from Walt Disney's Mickey Mouse in black and white to Woody and Buzz Lightyear in Pixar's Toy Story (the first fully computer-animated feature that came out in 1995). Classic 2D animated cartoons and comic book characters are now brought to life through 3D animation. Favorites like Dragons: Riders of Berk, Kung Fu Panda, Star Wars Rebels, Troll Hunters, Max Steel, Transformers, Teenage Mutant Ninja Turtles and so many others. Spanning the globe, we have a plethora of cartoons, movies and video games that utilize CGI computer graphic imagery to entertain audiences of all ages.